Man, woman arrested in connection with several crimes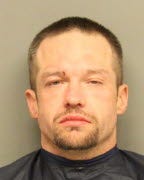 Posted by KLKN.
The Lancaster County Sheriffs Department arrested a man and woman in connection with several crimes Saturday night.
LSO was responding to a burglary call around 5:30 near 98th and Merion Circle when they found 34-year-old Ronald Sowards, of Wahoo, in possession of a stolen van and other items connecting him to several crimes.
LSO says the investigation is ongoing, but Sowards has been charged with burglary, possession of stolen property and unauthorized use of a transaction device.
21-year-old Amber Murphy, of Lincoln, was charged with accessory to a felony.