Many question Nebraska's State Patrol presence in North Dakota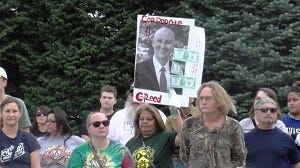 Posted by: Marlenia Thornton
mthornton@klkntv.com
Questions are still looming over Governor Pete Ricketts choice to send some state troopers to North Dakota.
They were sent to help out with law enforcement regarding the ongoing Dakota Access Pipeline protests.
Some Nebraskans are wondering about the governor motives.
"It's shameful that Nebraska would do that and we do question the governor's financial interest in Ameritrade," Local Pipeline Opponent Bill Hawkins said.
TD Ameritrade is an investment company. The Ricketts' family owns some stock with the business.
Some people believe the company and its subsidy have up to $300 million into the pipe line.
They worry if those possible ties influenced Ricketts' approval of sending the troopers.
This is what Governor Ricketts had to say during a news conference Tuesday.
"Well anything in regard to TD Ameritrade you need to go ask them specifically in regard to that. Again, I haven't been there day to day in 10 years. So you need to go talk to them," Nebraska Governor Pete Ricketts said. m
Many Nebraskans are concerned about the state patrol's presence in North Dakota.
Some senators have received calls regarding it.
This letter was passed out to many of them Monday also criticizing Ricketts.
Omaha Senator, Bob Krist, was one of those senators.
He understands people's concerns, but he doesn't think the governor has any personal interests in the pipeline.
"There is probably some oil interest within that business structure, but as far as the governor personally gaining from it or protecting any interest I think that needs to be rest," State Senator Bob Krist of Omaha said.
As a reminder, the requesting state foots the bill for additional resources under the Emergency Assistance Compact.