Marathon weekend begins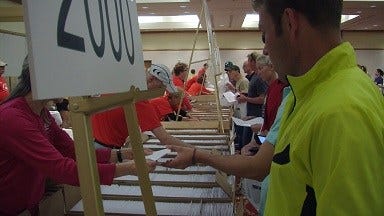 By: Jenn Hatcher
jhatcher@klkntv.com
Early Sunday morning, runners will hit their mark for the 37th annual Lincoln Marathon.
This will be Lincoln's biggest marathon yet, with more than 12,000 runners.
To accommodate the expansion, runners could start picking up race day packets and enjoy the Runner's Expo, Friday.
Expo coordinator, Lou Wetzler says, "They've spent 6 months training for the marathon and then to get their race number that they're going to put on their shirt is kind of culmination, they've arrived, they've got it."
Kelsey Tatro, who's lost 80 pounds training, is excited for Sunday, she was one of the first thousand people to pick up her race day packet.
"It's just moving, it really is, it's actually a little emotional because it's just like a really big deal," explains Tatro.
Tatro is running the half marathon.
So is Robert Johnson, who traveled to Lincoln for a wedding, and the next morning will run his first race ever.
He's followed a twelve week training plan.
"I printed it off line and I've just used that of 12 weeks," says Johnson
The Runners Expo at the Cornhusker Marriott, hosted more than 50 booths, from running apparel to health.
One booth is Bondi Band, which sells headbands that wick moisture away from the face.
Jennifer Hove says sales are going great, "The place has a lot of energy seems to be flowing really well and we're really happy with it so far."
Packet pickup and the expo continue Saturday at the Cornhusker Marriott from 8 to 6.
The day of the race, packets will be at the Coliseum.