Martinez named co-B10 Freshman of the Week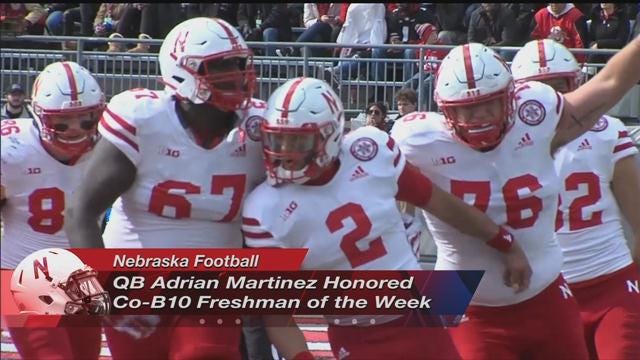 award@klkntv.com
Courtesy: UNL Media Relations
Nebraska quarterback Adrian Martinez was named the Big Ten Co-Freshman of the Week, the conference announced on Monday. Martinez took home the honor for the second time this season, sharing this week's honor with Minnesota wide receiver Rashod Bateman.
Martinez was honored for his performance at No. 8 Ohio State on Saturday, when he completed 22-of-33 passes for 266 yards and one touchdown. Martinez also rushed for 72 yards and two touchdowns on a career-high 20 carries, accounting for 338 yards of total offense and three touchdowns. Martinez's effort marked his fifth 300-yard total offense game of the season, one shy of the Nebraska record. He also guided the Husker offense to its sixth straight game gaining at least 450 yards of offense, tying for the longest streak in school history.
Martinez is the first quarterback to win multiple Big Ten Freshman-of-the-Week accolades since Northwestern's Clayton Thorson in 2015. Martinez is also the first Husker to win more than one Big Ten Freshman-of-the-Week honor since Nebraska joined the Big Ten in 2011.
On the season, Martinez has accounted for 2,402 yards of total offense, and he has averaged more than 300 yards of total offense per game. The Fresno, Calif., native has thrown for 1,922 yards and 12 touchdowns, while completing better than 66 percent of his passes. On the ground, Martinez has rushed for 480 yards and six touchdowns, averaging 60.0 rushing yards per game.
Big Ten Players of the Week
Co-Offensive Players of the Week
Reggie Corbin, Illinois
Jr., RB, Upper Marlboro, Md./Gonzaga College HS
Ran 13 times for a career-high 213 yards against Minnesota, making him the first Illini to reach the 200-yard plateau since Mikel Leshoure ran for 330 yards against Northwestern in 2010
Recorded a pair of touchdown runs, with both covering more than 70 yards to give him four rushes of at least 70 yards this season
Notched the eighth-most rushing yards in Illinois history, passing Red Grange's 212 rushing yards against Michigan in 1924
Collects his first career Offensive Player of the Week award
Last Illinois Offensive Player of the Week: Wes Lunt (Sept. 8, 2014)
Terry Wright, Purdue
Sr., WR, Memphis, Tenn./Coffeyville
Caught six passes for 146 yards and three touchdowns in Purdue's win over Iowa
Had scoring receptions of 41, 82 and three yards in the contest
Became the first Purdue player with three receiving touchdowns in a game since Gary Bush in 2012
Earns his first career Offensive Player of the Week award
Last Purdue Offensive Player of the Week: David Blough (Oct. 22, 2018)
Defensive Player of the Week
Joe Bachie, Michigan State
Jr., LB, Brook Park, Ohio/Berea
Recorded seven tackles, including two tackles for loss, in the team's victory over Maryland
Forced three fumbles, broke up two passes and recovered a fumble in the contest
Anchored a defense that held Maryland to 100 total yards and nine first downs
Receives his third career Defensive Player of the Week honor and first since 2017
Last Michigan State Defensive Player of the Week: Khari Willis (Oct. 15, 2018)
Special Teams Player of the Week
Spencer Evans, Purdue
Sr., K, Arlington, Texas/Martin
Booted the game-winning, 25-yard field goal with eight seconds remaining in Purdue's 38-36 win over Iowa
Also converted on all five PAT attempts to total eight of Purdue's 38 points on the day
Evans' field goal marked the first time since 2016 that the Boilermakers have won in such fashion
Earns his first career Special Teams Player of the Week honor
Last Purdue Special Teams Player of the Week: Joe Schopper (Oct. 22, 2018)
Co-Freshmen of the Week
Rashod Bateman, Minnesota
Fr., WR, Tifton, Ga./Tift County
Recorded a career-high 175 receiving yards while matching career highs with seven catches and two touchdown receptions at Illinois
Covered 61 and 86 yards on his touchdown catches, with the 86-yard score marking the longest for the Gophers since 2003
Set the school record for catches in a season by a freshman with 42, and moved within 77 yards and two touchdwns of those freshman receiving records at Minnesota
Claims his first Freshman of the Week award
Last Minnesota Freshman of the Week: Tanner Morgan (Oct. 29, 2018)
Adrian Martinez, Nebraska
Fr., QB, Fresno, Calif./Clovis West
Recorded his fifth 300-yard total offense game of the season, tallying 338 total yards at Ohio State
Completed 22 of 33 passes for 266 yards in the contest
Added 72 rushing yards and a career-high two touchdowns on the ground
Records his second Freshman of the Week award
Last Nebraska Freshman of the Week: Adrian Martinez (Oct. 22, 2018)