May 18th Give To Lincoln Day stretches donor dollars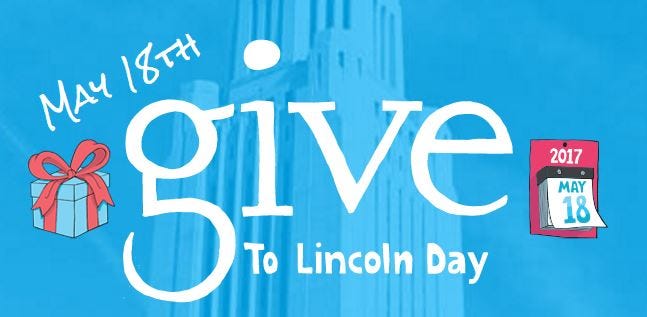 Posted By: Channel 8 Eyewitness News
8@klkntv.com
Press Release:
Lincoln, Neb. – The 6th annual Give to Lincoln Day is Thursday, May 18. Organized by the Lincoln Community Foundation, the 24-hour online event encourages donations to support the local nonprofits and causes people care about.
A new online fundraising platform, GiveSpring, will be introduced for Give To Lincoln Day 2017 that will result in larger gifts for the participating nonprofits. Local technology company, Firespring, has partnered with a student team from the Jeffrey S. Raikes School of Computer Science and Management at the University of Nebraska-Lincoln to develop new software that will allow community foundations and nonprofits all over the world to organize and conduct giving days. Lincoln will be the first community to use the program and because of the unique local partnership, Firespring will not be charging a platform fee so the only cost will be the industry standard credit card processing fees.
"We are very happy that fees will be lower so that we can return more donations to the nonprofit organizations in our community," shared Barbara Bartle, President of Lincoln Community Foundation. "We are delighted to be working with community partners to now have a local fundraising platform to host our giving day."
"This unique collaboration with UNL's Raikes School and Lincoln Community Foundation has resulted in a quality product that is secure, easy for donors to use and will return more money to nonprofit organizations," said Jay Wilkinson, CEO of Firespring. "It fits our core purpose of leveraging our people, products and profit as a force for good."
The match fund offered by Lincoln Community Foundation and their sponsors has been increased this year to a record high of $350,000. Each participating organization will receive a proportional share of the matching funds based upon its percentage of total dollars raised.
A record number of nonprofit organizations are participating in Give To Lincoln Day this year. A total of 365 local charities, including 29 who are participating for the first time, have registered.
"Having raised almost $12.4 million for the community over the past five years, Give To Lincoln Day has become a wonderful tradition of giving to the important causes that make our city such a wonderful place to live, work and play," said Barbara Bartle, President of Lincoln Community Foundation. "These gifts make it possible for nonprofit organizations to provide much needed services throughout our community, improving lives and helping to make Lincoln a great city."
The community is encouraged to visit Lincoln Community Foundation's Tower Square at 13th & P on May 18. More than 70 organizations will be there from 10 a.m. to 2 p.m. with hands-on activities, demonstrations and information about their programs. There will be a noon performance by Oasis Bluegrass Band and a donation station.
Donors may search nonprofits and give online at GiveToLincoln.com. Donors can plan ahead and begin giving online starting May 1 but all donations must be made before 11:59 p.m. on May 18 to count toward the giving day and the match fund. The minimum donation is $10 per charity. Donations will be charged to a credit card. Anyone who prefers not to give online can donate in person from 8 a.m. to 5 p.m. on May 26 at the Lincoln Community Foundation office, 215 Centennial Mall South.
On May 18, donation totals can be viewed throughout the day at GiveToLincoln.com.
The Lincoln Community Foundation, established in 1955, strives to continually enrich the Lincoln community by promoting and achieving philanthropic support. The Foundation has distributed more than $90 million in grants to local nonprofit organizations that have improved our community and the lives of our residents.