Mayor Beutler: Water conservation not needed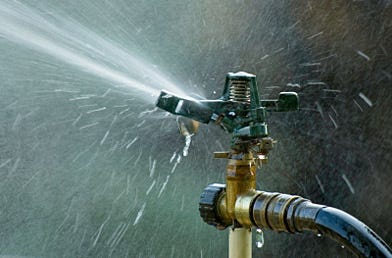 By: Newsroom
8@klkntv.com
As the warmer months approach, Mayor Chris Beutler said the City's water supply is in good shape. This is the third consecutive year the Mayor is not asking residents to follow the voluntary designated-day watering schedule implemented nine years ago.
"We need to practice good water conservation measures even though Lincoln continues to be blessed with an adequate supply of high-quality water," said Mayor Beutler. "We also want to remind residents that the more water you use, the higher the rate and cost. Lincoln Water System rates are structured to encourage conservation. Relatively small conservation measures can save a lot of water, and that means lower water bills for consumers."
Jerry Obrist, Lincoln Water System (LWS) Chief Engineer, said precipitation is near normal levels, the aquifer is almost full and flows in the Platte River are slightly below normal. Lincoln's water comes from well fields along the Platte near the City's Ashland treatment plant. LWS will continue to utilize electricity in the off-peak period at the plant and select pumping stations to manage electricity consumption to the lowest level possible to conserve energy and reduce electrical costs.
Obrist said the City is currently reviewing its water rate structure and its schedule for the replacement of aging infrastructure. "We must ensure that the system always has the capacity for fire protection and basic health needs," Obrist said. "Many factors must be taken into account, including metering and meter replacement; billing, hydrant repair and replacement; and maintenance and replacement of our current infrastructure. And we must have resources to build new infrastructure to meet the needs of a growing city."
A complete description of water rates and the City's Water Management Plan are available on the City website, lincoln.ne.gov (keyword: water). The Mayor's Water Conservation Task Force recommends the following:
• Water during the cool part of the day, and don't water in windy conditions.
• Install a rain sensor device on automatic sprinklers.
• Adjust sprinklers to water only the lawn, and not the sidewalk or street.
• Use a broom, not a hose and water, for outdoor cleaning.
• Wash your car with a pail of soapy water, using the hose only to rinse the car.