Lincoln Mayor releases a "cuts only" budget list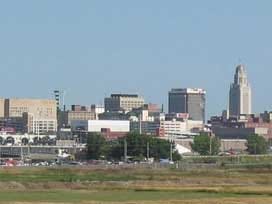 Mayor Chris Beutler says the "cuts only" budget would change city character.
The list of programs would be affected if the City chose to close the $9.3 million budget gap with funding reductions only. He said it is not the 2011-2012 budget proposal he will release July 11, but is intended to present a realistic picture of the City's budget challenges.
"I offer this today because without understanding where a 'cuts only' budget would take us, we cannot make informed judgements on alternatives to a one-dimensional budget solution," Beutler said. " Some will accuse of us trying to scare the public. But we have a responsibility to realistically confront the choices available to us. To me, it is far more frightening to ignore the situation and place our hopes in unrealistic schemes with uncertain outcomes."
The cuts were based on the City's prioritized program list, available on the City website at www.lincoln.ne.gov. The impact of a "cuts only" budget would include the following:
Police programs cut would be victim/witness services; protective custody of intoxicated persons; response to non-emergency calls; and parking and abandoned vehicle enforcement. This would result in the elimination of six police officer, four public service officer and three victim/witness positions.
Williams, Bethany and South branch libraries would close, and all other libraries would face a one-day service cut and reduced Sunday hours.
Air Park Fire Station would close, and 12 firefighters would be cut.
All City parks would close except Antelope, Hazel Abel, Holmes, Pioneers and Union Plaza. All City pools would close except Star City Shores and Woods. The Pioneers Park Nature Center would close. Many recreation centers would face reductions. Street tree maintenance would be funded at one-third of this year's budget.
StarTran Saturday hours and weekday mid-day hours would end.
Funding to the Lincoln Partnership for Economic Development would be cut $200,000.
Aging Partners programs cut would be legal services, in-home services, volunteer programs and social work and care management.
The Health Department's pre-natal care referral service would end.
If the $9.3 million budget gap were to be closed only with a property tax increase, it would require a six-cent City levy increase. That would cost the owner of a $150,000 home about $7.50 a month in additional property taxes.
Despite four years of budget cuts, the Mayor said the budget's "stubborn structural imbalance" remains, and this is the toughest budget he's had to develop as Mayor. Beutler said the City has limited options, with personnel costs making up 70 percent of the budget and State controls on wage increases continuing. Reductions in State and federal aid programs and reliance one-time sources of funds also have contributed to the budget gap.
Beutler said the City has become more efficient – despite City growth in population and area by more than 6 percent during his administration, the number of City employees has been cut by more than 5 percent. "We are doing more with less, which is the very definition of efficiency, and we will continue to do so," he said. But Beutler said to make all the cuts on the list would be a repudiation of those who worked and sacrificed in previous generations.
"I will not be the Mayor that allows Lincoln to stand still or fall behind because I lacked the political will and courage to lead," Beutler said. "Yes, we will have to make cuts and sacrifices. But I refuse to let those cuts and sacrifices become so deep that our essential character is changed."
If you'd like to comment on this story, you can do so below.