Mayor slams proposal that would give voters say in tax increase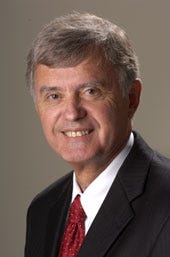 Posted By: Nicole Cousins
ncousins@klkntv.com
Mayor Beutler fired at a local nonprofit Tuesday for calling upon him and Lincoln City Council to give the people a say in taxation.
"This radical proposal is reckless, irresponsible and a threat to all we have accomplished and to all we can accomplish in the future," Beutler said.
Citizens for a Better Lincoln (CFBL) announced a proposal that would change city law to require voter approval of tax increases.
CFBL says nickel and diming residents is adding up, especially for families on fixed incomes.
"We just ask the government to make the same tough choices that individuals make as they're managing their own personal finances," spokesperson and attorney Perry Pirsch said.
The mayor and his financial advisor expressed concerns for the fate of the city's bond rating if this passes.
Beutler said leaders of the CFBL and of LIBA, who has donated to the CFBL, didn't do the homework that comes with an amendment like this.
"They would be getting an "F" for this unconcieved reckless effort," Beutler said.
Citizens for a Better Lincoln says differently.
The proposal would allow for city council to temporarily increase taxes in case of an emergency.
Lincoln's Comprehensive Annual Financial Report says city expenses have increased $211 million from 2004 to 2015.
The amount of debt per capita has also skyrocketed over the last 10 years.
The average Lincolnite had $383 in debt in 2006.
That number is at $1,650 dollars now.
"We can demonstrate that we are fiscally responsible in Lincoln, Nebraska and our bond rate will stay high," Pirsch said.
This proposal will be discussed in a public hearing during city council next Monday.
The CEO of LIBA released a statement saying – while they've given money to the CFBL — the organization has decided not to take a position on this proposal.
They were disappointed that Mayor Beutler attacked them without reaching out to the organization first.