Measles: What you need to know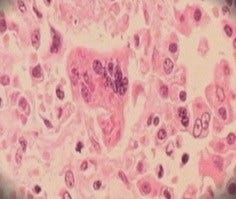 Posted By: Camila Orti
Is measles back?
The Lincoln-Lancaster County Health Department (LLCHD) is investigating its first confirmed case of measles in the county since 1990.
"We've had a lot of parents calling in and asking about measles especially because of Disneyland," Dr. Phil Boucher with Lincoln Pediatric Group said.
The CDC says the measles outbreak started in the California amusement park and spread to more than 50 people in six states in the last month. Although health officials say Nebraska is not linked to this outbreak, LLCHD did confirm a case in Lincoln on Thursday on top of another case in Omaha.
"We have not seen a measles case in many, many years," Communicable Disease Program Supervisor Tim Timmons said.
It's been 25 years, to be exact. Timmons says they're still investigating the source of the local infection, but he says the diagnosed preschooler is no longer contagious, and wasn't linked to any schools or daycares.
"We have not seen any other cases locally so that's a good sign," Timmons said.
Timmons says the child was up-to-date on immunizations, but getting a vaccine doesn't necessarily seal the deal.
"There's two percent of individuals who might not develop sufficient immunity to be protected," Timmons said.
For local parents like Tony Reiling, that brings up some questions, but doesn't cause him to panic… yet.
"It's strange to hear that as a parent but I'm not too worried about it until we get two or three or ten cases," Reiling said.
Reiling says he makes sure his kids get vaccinated, something Lincoln pediatric doctor Phil Boucher recommends.
"There are certainly a growing number of parents that are vaccine-hesitant or refuse vaccinations and that does lead to more outbreaks," Boucher said.
The CDC reports the virus was eliminated in the United States by the year 2000, but it's been coming back recently, even tripling in cases from 2013 to 2014. Doctors say if you got the two recommended doses as a child, there's no need for another booster.
More information on measles is available at:
http://www.cdc.gov/measles/about/index.html