Medical marijuana debate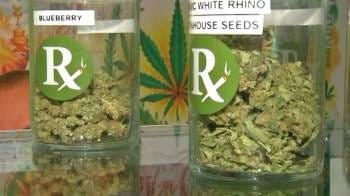 Posted By: Laurann Robinson
lrobinson@klkntv.com
More debate about making medical marijuana legal in Nebraska.
There's two sides to the issue, and today at the Capitol, an officer from Colorado met with an invite-only group to talk about how legalizing medical marijuana could be a huge mistake… but he was met with some opposition.
"It's just unfortunate that the legislature, who doesn't have the expertise of a medical doctor, they get to make this decision, when it should be a doctor–patient relationship," says Shari Lawlor.
Lawlor, who's daughter has been epileptic since she was 15 months old says she's eager to try cannabis oils on her now 22 year old daughter.
But Sgt. Jim Gerhardt from Colorado, who spoke on behalf of the Colorado Drug Investigators Association, to a room full or senators, law enforcement, and other invited guests says legalizing the drug could be a big mistake for Nebraska.
Gerhardt adds, "I think it's important as Nebraska debates this issue to look around at what other states have done. In Colorado, we didn't have that luxury."
He says once the drug is allowed in a state, it becomes harder to differentiate things like whether it was sold to a person legally or on the streets.
As for the claim that marijuana can help the chronically ill, Attorney General Doug Peterson says he's still waiting on an official verdict.
He says, "I think the state of Nebraska did the most responsible thing when they passed the bill last legislative session saying let's give it serious medical study. The FDA has given approval to the university med center to do that, and i think we have to wait for those results."
But some say they can't wait that long.
Lawlor adds, "in the legal states, there is anecdotal evidence right now, where it is helping many."
And as for Nebraska and Oklahoma's lawsuit against Colorado, claiming the state's legalization of marijuana was unconstitutional… they are still waiting to see if the U.S. Supreme Court will take the case.