Memorial Day celebrations on hold in Beaver Crossing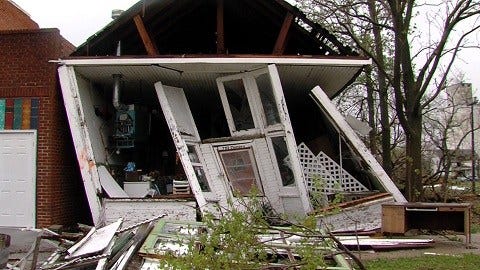 By: Jenn Schanz
jschanz@klkntv.com
It was a sunny, warm day in Beaver Crossing Tuesday. A big difference from just nine days earlier, when an EF–3 tornado wreaked havoc.
"The roof of the porch comes straight down on the door, we would have been trapped," says Beaver Crossing resident Jim Miller. He was one of the lucky ones; his home is still livable, just a little roof damage. He and his brother were at theneighbors" when the storm hit.
"When we came out of their basement, water was pouring in there, and glass and hail was pouring in their front window," he says.
Along with dozens of volunteers, Lt. Governor Lavon Heidemann stopped by to check in with residents, and survey the damage.
"The amount of destruction with the trees is what really kind of grabs you first and realizing that's probably what took all the power lines down," Heidemann says.
Aside from the obvious damage to the majority of the town's homes, officials are also concerned with the growing number of debris piles, some of them more than 50 feet high.
Important city landmarks are also in shambles, like Beaver Crossing Park. Town officials say it's basically a total loss; Memorial Day baseball games won't be happening. The cemetery also suffered extensive damage, with cracked headstones and dozens of uprooted trees. The annual Memorial Day ceremony that always held there is also a no–go.
But Miller says despite the loss of infrastructure, he's still thankful, and surprised, no one was killed.
"It could have been a heck of a lot worse. Somebody up above was really looking out for the residents of Beaver Crossing."
Gohener will be holding Memorial Day celebrations, which Beaver Crossing residents are welcome to attend. Town officials say they're still in desperate need of volunteer groups. To help, call 402-532-3929 or email villageofbc@windstream.net