Minor flooding reported near Nebraska rivers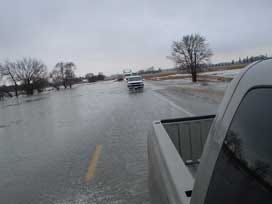 Moderate flooding is expected along several Nebraska rivers as chunks of ice drift downstream and create occasional blockages. The National Weather Service issued two flood warnings Thursday morning. One covers the Platte River near where the Elkhorn River joins it between Fremont and Louisville.
The other covers the Loup River about 20 miles west of Columbus. Most of the flooding is only affecting farm fields, but some cabins in western Sarpy County were evacuated Wednesday night. The Weather Service says the Platte is near its flood stage by Ashland, but water levels may fluctuate 2 to 3 feet as ice moves downstream. The Loup was 3 feet above flood stage near Genoa Thursday, but it should recede within its banks by Friday morning.