Missing boy found safe playing inside toy claw machine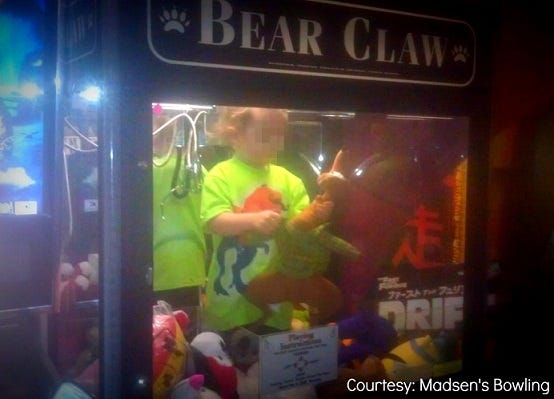 By: Jenn Hatcher
jhatcher@klkntv.com
A 3-year-old Lincoln boy disappeared Monday
night and where he was found is pretty amazing.
After his mother
called 911, the toddler was located across the street from their apartment at Madsen's
Bowling Alley and Billiards, inside the businesses, get this, claw machine.
Madsen's Bartender,
Rachell Hildreth saw the whole thing, "I really don't think he noticed any
of us outside the machine because he was just picking up stuffed animals and
putting them down where they come out of."
There's only one way
the boy could have gotten into the machine, through the prize hole. Luckily there's a different way to get out.
Jim Lakey with VVS,
the owner's of the machine, came to the rescue, rushing to the bowling alley
with the machine key.
"You have to
weave your way in and out so he had to work pretty hard to get in there,"
explains Lakey, "I had heard about this happening in other parts of the
country, it's kind of a rarity."
The boy was uninjured,
happily playing with the stuffed toys inside.
Police say no citations
were issued to the mother because she acted quickly and appropriately, upon
learning that her son was missing.
The youngster did
walk away with a new plush toy and gave folks a story to tell for years to
come.
"That's definitely
a first for Madsen's," says Hildreth.