Missouri threatens small Iowa towns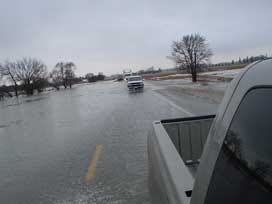 As the Missouri River rages on, residents living along it continue to hold out hope.
For those in Percival, Iowa, it's a race against the clock. The small town located just across the river from Nebraska City is already seeing minor flooding. 10,000 sandbags were piled around the Super 8 Motel and Finders Keepers Antique Mall on Tuesday. Thousands more were needed for other stores located along the river.
Percival is now a ghost town, but the Mighty Mo is not stopping their mighty effort to try and keep homes and businesses afloat. Alicia Chrastil owns the Finders Keepers Antique Mall and says she was amazed by how many people showed up to help and how hard they worked. "We're talking some really, really hard manual work here without air conditioning. People were exhausted. And if people couldn't work, they would bring food or hold the baby so the mom could work. It was just a really wonderful thing to see all coming together and people helping one another."
Percival is just one of the towns in Iowa that could see floodwaters up to eight feet high.
Transportation officials say Interstate 29 in western Iowa is in the path of the rising Missouri River and parts could be closed within days.