Mobile Food Pantries Help Feed Students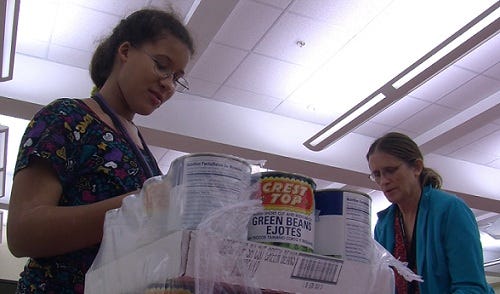 By: Cole Miller
cmiller@klkntv.com
What first started out as an experiment at Lincoln High School has turned into a huge success. Now, schools like North Star, are picking up on the idea of food marts.
The concept is simple—all students are eligible and no one can be turned away.

On the second and fourth Wednesday of every month, the Lincoln Food Bank brings a truck load of food to Lincoln High School. Once inside the cafeteria, students help set up tables and shortly after, their peers come through and fill their bags. The school's social worker, Sue Dutton, says two weeks ago, more than 300 students used the service.

"Hungry elementary kids grow up to be hungry high school kids and if we've got hungry high school kids, we gather that there's somebody else hungry at home as well," Dutton said.
Student volunteers are hoping to spread the message about what's being offered.
"More kids and families will find out about it and be like, 'Hey, this is a great idea!" There are a lot of people who don't have money for food and they'll see it as a perfect opportunity to come and get some," Freshman Peter Hajda said.
Dutton says the service works because they're able to help students without them even leaving the school. She also believes many families are having to tighten their food budgets in this economy. This allows students to fill both their stomachs and cupboards for up to two weeks.