Molex celebrates 35 years in Lincoln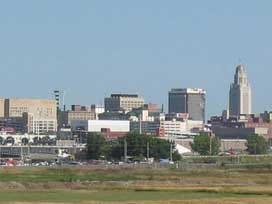 By: Sabrina Ahmed
sahmed@klkntv.com
35 years and counting. Lincoln company Molex has a lot to celebrate. And it's still growing.
This International company has been in Lincoln for more than 3 decades. With some original employees still there. That shows the loyalty the company fosters. When the company first came to Lincoln, this was the fourth plant in the country. They only had about 350 employees.
Today, this 3 and a half billion dollar company has 35,000 employees worldwide. But it still prides itself on the roots it has here in Lincoln. They make small electronic parts for cars and appliances, among other things.
Donna Magwire says she was here when they opened in Lincoln-she was an original employee. Even after retirement, she came back to work as a part time because of the loyalty the company has for its workers.
"Opportunities for growth and it was starting to expand a lot and I just loved it so I stayed-for 35 years," Magwire said.
That's what CEO Martin Slark says is the secret to the company-they wouldn't be where they are today without the technicians in Lincoln.
"Recruit, train and help keep good people in that company that help drive it forward," Slark said.
This is the company's number one factory for customer revenue. In the last five years, 25-million dollars have been invested in Lincoln to help grow it even more. That means more jobs and better economy across the city-and the state. Slark says, even in the changing world and economic downturn, the company is pulling through and growing.
"I think any company that can continue to be successful in the globally changing world is obviously doing the right things," Slark said.
This passionate employee says she will be with the company for as long as she can. "I'm gonna come in some day and my key's gonna, or my badge is gonna be keyed out of there and I'll be knocking on the outside, trying to get back in," Magwire said.
Molex also plans to put another $25 million dollars in the Lincoln plant in the next 5 years.