Monster Jam truckers visit hospital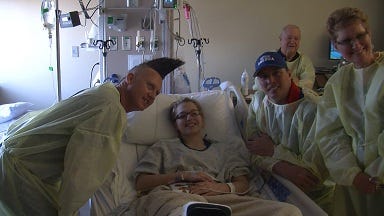 By: Jenn Hatcher
jhatcher@klkntv.com
Monster Jam fans are revved up for some excitement this weekend at the Pinnacle Bank Arena.
The drivers are spending time in the capital city and Friday they made a very special stop.
Two drivers, better known by their truck names, Captain America (Chad Fortune) and Mohawk Warrior (George Balhan), visited patients at St. Elizabeth Regional Medical Center.
"This is the cool part of our job," says Balhan.
The two are no strangers to signing autographs and taking pictures, like they did for Zane Ray.
Ray is undergoing chemotherapy after being diagnosed with stage four lung cancer.
The patient enjoyed his visit, "Surprised me, got me a nice book here with an autograph in there," says Ray.
They also stopped by the burn unit and visited Elayna Mincer, "It was pretty awesome. I think it's really nice how they come in and see the patients and everything," says Mincer, who was injured in an ATV accident.
There are three Monster Jam shows scheduled this weekend.
Monster Jam ticket information can be found here: http://www.monsterjam.com/Events/2014/04/11/Lincoln,_NE/