More changes are coming to Gateway Mall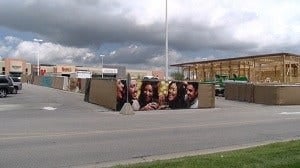 Posted by: Marlenia Thornton
mthornton@klkntv.com
The face of Gateway Mall is evolving.
One of its newest additions will be the long awaited store Dick's Sporting Goods.
It'll go in at the buckle's old location, which is in the southeast part of the mall.
Dick's will be about 75,000 sq ft, two stories, and should be opening the summer of 2017.
This shopper is excited about its arrival.
"Being from outside of Lincoln, I think it's great because we don't have access of lot of those and having everything right here would be helpful for us," Shopper Marc Harpham of McCook said.
Mall goers have seen many changes within the past year.
H&M opened last August and Five Guys and Zoup were also added on to the food court.
Gateway said there's more to come with a new Foot Locker and Bath and Body Works Candle shop.
Plus–size fashion retailer Torrid is coming as well.
Its general manager said Gateway is having great momentum and listens to community for input.
"We listen to all them in terms of what we want. We pay real close attention to the retail mix at Gateway and want a great selection for those who shop here," Gateway Mall General Manager Chad Becwar said.
The mall said the construction is on schedule and Granite City should reopen in its new spot this fall.
Many shoppers said they like the changes.
"In Beatrice, we only have ten stores in our mall, so we come to Lincoln we have about twice the stores so we can shop more and get more variety," Shopper Garrett Bloomquist of Beatrice said.
"It's just good to come here and see it changing all the time see additions and see it expanding," Harpham said.
Also, Dickey's Barbecue will be making an appearance in the food court soon as well.