More than a dozen mailboxes vandalized in northeast Lincoln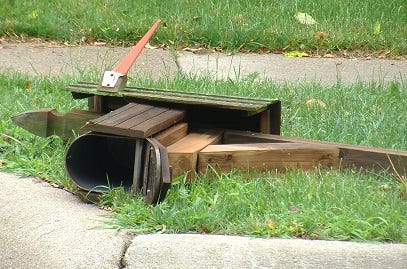 By: Kayla Bremer
kbremer@klkntv.com
Residents in northeast Lincoln clean up after vandals hit their neighborhood.
The damage can be seen all up and down the block. Mailboxes laying on the ground and their posts snapped in half after someone damaged 14 of them early Sunday morning.
"Mine was the easiest (to repair)," Lyle Wittler said. "Just one of these came unhooked. A lot of them lost the post and everything like that."
Wittler is one of the many victims who was awoken by police knocking on their doors in the early morning hours.
He says his house and others all up and down the street were hit, including his next door neighbor who's mailbox was knocked off its stand, then put on top of their car.
"A bunch of nonsense that people have to do this."
It happened around 4:30 in the morning.
Police say a man heard a noise outside his home and looked out to see his mailbox and his neighbor's damaged.
He told investigators he saw a white male around 6 feet tall walking down the street smashing mailboxes.
"Officers came into the area but were not able to locate the suspect," Officer Katie Flood said.
Wittler says many of them spent their Sunday repairing or replacing the damaged mailboxes, but there are still quite a few on the street that will need to be fixed.
"Too bad they can't catch the guy and make him pay for it or something," Wittler said.
Police say damage is about $700 to the neighborhood.
Anyone who has any information is encouraged to call Lincoln Police.