Morning blizzard causes extra work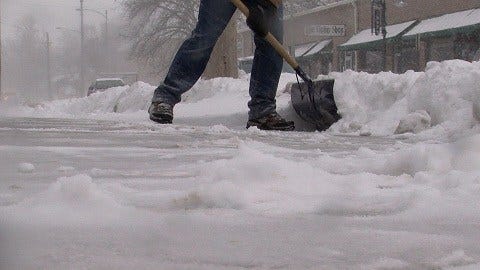 Posted By: Jenn Schanz
jschanz@klkntv.com
For Lincoln kids, it was a snow day; but with the blizzard that hit early Wednesday morning, there was plenty of work to be done.
"Well it was more than I expected and we found out school was canceled so he's helping me this morning," said Hans Rohrbaugh.
He and his son Alexander were busy shoveling Wednesday morning.
"It's really cold," Alexander said.
The snow fell hard beginning around 5 a.m. and lasting until about 11 a.m.
Many of the city's residential roads weren't plowed right away, causing for several cars to get stuck, and most sidewalks and driveways were buried under a blanket of white..
For those with a snow-blower, the day was manageable; but not everyone was so lucky.
The trooper of the day award goes to Nuha Farid.
"The snow blower broke. So we have to do it by hand now, so it's taking us a little bit longer."
Farid has been already been shoveling for two hours when we spoke.
In addition to clearing this driveway and the sidewalks, he also stepped up to help a few cars.
They got stuck on a nearby hill, and he had to dig them out.
"It's fun, but at the same time it's cold out here," he said.