Morning fire caused by girl playing with lighter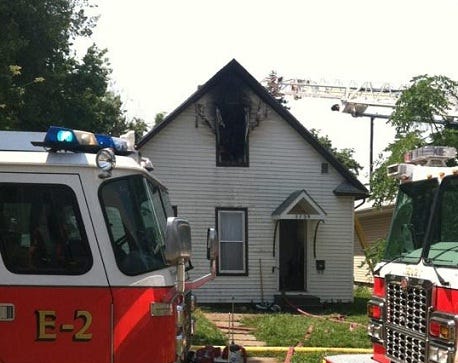 By: Ashley Harding
aharding@klkntv.com
The fire started late Monday morning inside a home near 27th and Starr in north Lincoln.
Officials say a little girl inside the home got a hold of a lighter, then set the bed on fire destroying two upstairs bedrooms. When firefighters arrived at 2739 Starr, which is near Holdrege, they found the second floor bedroom ablaze. Some neighbors reported seeing flames and smoke billowing from the window.
Coltin Phipps lives across the street. He immediately ran inside to help.
"It was pretty scary because you could like, hear the fire cracking above you. And the smell, the smell of the smoke," says Phipps.
Fire officials say it all started when a little girl got ahold of a lighter in one of the bedrooms upstairs. They say she then went downstairs to tell her dad something was wrong.
"It was the bed. The bed was on fire when the father came upstairs to follow."
They say her father then told everyone inside to get out. Fire officials say luckily, everyone was able to get out right away. But unfortunately, the second floor bedroom is a total loss and the family will have to be relocated."
Investigators estimate the damage to be at least $45,000. The house itself also suffered some smoke damage.
The neighbors say they're thankful that everyone made it out safely.
"It's sad that they lost all their stuff. Our house started on fire when I was 4 and we lost everything. So I understand what they're going through."
The family is being assisted by the American Red Cross. Fire officials say this is a good reminder to parents to make sure all lighters and matches put away.