Music summer camp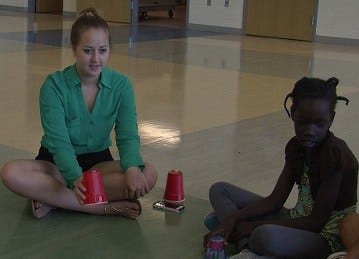 Posted By: Nolan Crane
ncrane@klkntv.com
Students at Arnold Elementary School are spending their summer making and playing different musical instruments. One of the most popular songs uses items from around the house thanks to the hit movie Pitch Perfect. Here's Monday, August 10th's Excellence in Education report.
Using these plastic cups the students learned about beat, tempo and rhythm as they tried to follow along with the teacher. These musical instruments might be cheap, but they teach a valuable lesson. The instructor wants every student in her class to improve their listening skills and hand–eye coordination, but some of the students have their own agenda.
"I'm excited to learn the cup song from the movies," says Evett Lyne.

"We're also going to be making drums later in the week and that's just going to be with household objects, anything from buckets that we're just going to paint and turn upside down like the different bucket drummers. We're also going to be making some different percussion instruments like our own tambourines from paper plates with beans just thrown inside and different things, just to experiment with what types of noises we can make with things that we find around the house," says Autumn Kunze.
This week long summer camp is for students in first, second and third grade.