National Cancer Survivors Day event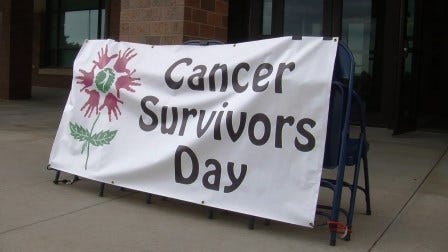 Posted by: Laurann Robinson
Friends and family members of cancer survivors gathered at St. Mark's United Lutheran Church this evening to celebrate life.
The 24th annual survivorship celebration was put on by a coalition of different sponsors and volunteers.
Survivors of many different forms of cancer were in attendance today with the purpose of supporting one another.
Andrea Christensen, who is still undergoing chemotherapy says, her cancer experience has helped her be thankful for the little things.
"It's neat to be around other people and see that other people are making it. And just to stay positive," said Christensen.
She also says she was first diagnosed with breast cancer in 2010, and in 2012 found out the cancer had metastasized to her brain.
Currently in the middle of what she calls the "maintenance phase," Christensen likes to look at the silver lining of it all.
She adds, "it's brought me closer to people in some ways. You kind of just realize i'm so lucky to still be here."
Another survivor in attendance spent her graduate school career focused on cancer research… Years before being diagnosed herself.
"The laboratory where I did my graduate training was supported by a grant from the American Cancer Society. So I became a scientist, then I became a cancer survivor. And then it looped around and I became involved with the American Cancer Society. So it really kind of came around full circle," said Amy Geschwender.
Geschwender was diagnosed with a form of incurable brain cancer nearly 8 years ago… But remains positive about her progress.
She adds, "my disease is considered incurable. And it's expected to come back, but it hasn't yet."
Most families at this "Celebration of Life" kept positive thoughts about their cancer treatments. But as one speaker at the event said, it's easy to get scared about being sick again, even once the cancer is gone.
"The best thing to keep in mind is that, with every little ache and pain, you don't always revert to, 'it's come back'," said Melissa Sebek, a counselor.
If you would like to support cancer research, the American Cancer Society will be holding a Relay for Life event at Haymarket Park, Saturday, June 27th at 4pm.