NE Judge Considers Arguments In Flag Case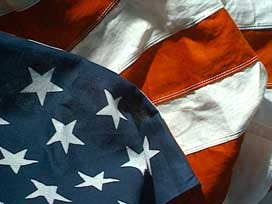 A judge set no timetable for his ruling after he accepted opposing arguments on Nebraska's flag-desecration law.
Shirley Phelps-Roper of Topeka, Kan., was charged with violating the law in 2007. She and her attorney, Bassel El-Kasaby say the law violates her right to free speech.
They are appealing a county court ruling upholding the law. Sarpy County District Judge William Zastera told El-Kasaby and the prosecutor Friday that he will review their arguments and rule later.
The attorneys made no oral arguments. Authorities say Phelps-Roper let her then-10-year-old son stand on an American flag at the funeral of a National Guardsman in Bellevue.
They also say she wore a flag as a skirt that dragged on the ground.