NE National Guard blackhawk sent to Colorado wildfires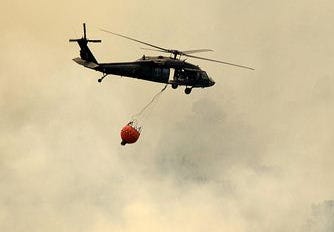 By: Newsroom
8@klkntv.com
The Nebraska Army National Guard's 1-376th Aviation Battalion is assisting the state of Colorado in fighting wildfires that have forced the evacuation of thousands of people. The Nebraska National Guard has deployed a UH-60 Black Hawk helicopter and a four-Soldier crew equipped with a 660-gallon 'Bambi" bucket that can scoop water from local water sources and spread it on flames to Colorado where they will assist Colorado firefighters in battling fires near Fort Collins, Colo.
The deployment is in response to a request made to Nebraska through the Emergency Management Assistance Compact, a multi-state agreement which facilitates emergency response requests between states.
"Our Soldiers are excited to have the opportunity to help out the citizens of Colorado in their time of need," said Brig. Gen. Daryl Bohac, deputy adjutant general for the Nebraska National Guard. "The Colorado National Guard assisted us last year during the historic flooding on the Missouri and Platte Rivers. This really is a continuation of the spirit of 'neighbors helping neighbors' that the National Guard is all about."
The helicopter and crew left Lincoln, Neb., yesterday and may remain in Colorado for up to 15 days, or more, depending upon the firefighting needs in Colorado.