Neb. Anti Smoking Group Wary Of Where Smoke Blows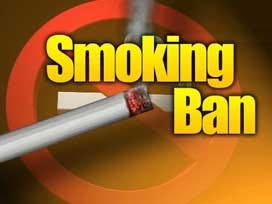 An anti-smoking group has lost the fight over whether cigar bars exist in Nebraska. Now it's focusing on where the smoke blows.
Mark Welsch of Omaha is president of the Group to Alleviate Smoking Pollution, or GASP. He said Thursday at a state Liquor Control Commission hearing on cigar-bar rules that the establishments should put out the cigars if smoke infiltrates neighboring businesses required to follow the Clean Indoor Act.
Welsch also says a proposed rule requiring ventilation systems in the cigar bars should be struck because it gives the impression that the air is clean.
Cigar bars will become exempt from the statewide smoking ban on Aug. 30.
Commission executive director Hobert Rupe says the board would vote on rules at its September meeting.