NEB Vball: Six Huskers Make All-Region Team, Cook Honored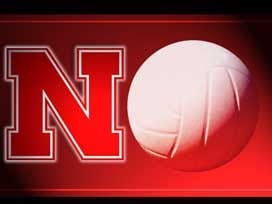 Posted By: Sports
sports@klkntv.com
Courtesy: UNL Media Relations
fourth time at Nebraska.
The six Huskers – Amber Rolfzen, Kadie Rolfzen, Justine Wong-Orantes, Briana Holman, Kelly Hunter and Mikaela Foecke – are now eligible for AVCA All-America awards, which will be announced next week. The six players comprised nearly half of the 14-player North Region team. All six were either on the All-Big Ten team or received honorable mention last week.
Kadie Rolfzen is the first Husker since Sarah Pavan (2004-07) to receive four all-region honors at Nebraska and will look to join Pavan as the only four-time All-Americans in program history. Rolfzen was a first-team All-American last season after two years as a third-team All-American. She leads the Huskers with 3.21 kills per set and adds 2.48 digs per set, establishing her as one of the top six-rotation players in the nation. The Papillion, Nebraska native is hitting a career-best .299 and has served a career-high 24 aces. An NCAA Senior CLASS Award finalist, Rolfzen has joined Jordan Larson as the only Huskers to rank in the top seven in school history in career kills and digs.
Amber Rolfzen was a repeat selection to the all-region team, making the squad in both of her seasons as a middle blocker. Rolfzen averages 1.92 kills and a team-high 1.43 blocks per set while hitting .314 this season. The Papillion, Nebraska native has cracked the career block assists chart (No. 6) and total blocks chart (No. 8) in just two seasons as a middle blocker. A second-team AVCA All-American last season, Rolfzen was named the espnW and AVCA National Player of the Week after 16 kills in both wins over Wisconsin and Minnesota in October, and she was also on the All-Big Ten team.
Wong-Orantes, the Huskers' standout senior libero, was selected to the team for the second year in a row after picking up her second Big Ten Defensive Player of the Year honor last week. Wong-Orantes became Nebraska's all-time career digs leader this season and set a single-match school record with 35 digs against Minnesota in October. A third-team AVCA All-American last season, Wong-Orantes is averaging 4.27 digs per set and became the first Husker in school history to surpass 1,800 career digs.
Holman, a junior middle blocker from DeSoto, Texas, picked up her third career all-region honor but first as a Husker, as she was an AVCA All-American in 2014 at LSU and received honorable mention in 2013. Holman is hitting a team-best .343 this season and is averaging 1.19 blocks per set and 2.37 kills per set. She was the espnW National Player of the Week in the first week of the season after leading the Huskers to wins over No. 10 Florida and No. 2 Texas.
Hunter, the Huskers' junior setter and captain, made the all-region team for the second straight year. She earned her first All-Big Ten selection this season and leads the Huskers with 11.25 assists per set. The Papillion, Nebraska native was the first Husker setter to receive first-team all-conference honors since Lauren Cook in 2012. Hunter leads Nebraska with nine double-doubles and was a four-time Big Ten Setter of the Week. She set a career high with 61 assists at Penn State on November 4.
Foecke, the most outstanding player of the 2015 NCAA Championship as a freshman, posts 2.94 kills per set with an impressive .309 hitting percentage as a sophomore, which ranks among the top outside hitters in the Big Ten Conference. The West Point, Iowa product has served 17 aces and chipped in 42 blocks, and she has played pivotal roles in big matches, including 20 kills against Minnesota on October 23, 19 at Penn State on November 4 and 18 against Michigan in the Big Ten title-clinching win.
Cook was tabbed AVCA Region Coach of the Year for the fifth time in his career, also earning the award in 1997 at Wisconsin, 2000 at Nebraska, 2005 and 2008. In his 17th season as head coach at Nebraska, Cook led the Huskers to their second Big Ten title and the No. 1 overall seed in the NCAA Tournament. Cook's Husker teams have won 11 conference titles in his 17 seasons, and he holds the nation's best winning percentage (.886) since 2000.
Under Cook, the Huskers head into a regional semifinal match against Penn State on Friday at 11 a.m. at the Bob Devaney Sports Center. The Huskers are making their nation-leading 32nd regional appearance and 22nd in the last 23 years.