NEB WRES: All 10 Huskers Qualify for NCAA Championships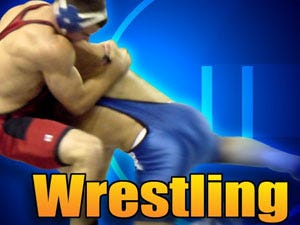 Posted By: Sports
sports@klkntv.com
For the first time since 1995, the entire Husker lineup has qualified for the NCAA Championships. Seven Huskers earned seeds when the NCAA announced its brackets for each weight class on Wednesday.
Nebraska is one of three teams to qualify all 10 wrestlers for the national tournament, along with Oklahoma State and Rutgers.
TJ Dudley (184), Jake Sueflohn (149) and Eric Montoya (133) each earned the seventh seed in their respective weight class. Dudley seeks his second All-America honor after finishing eighth at 184 pounds last year. Sueflohn will be making his fourth NCAA appearance and enters the tournament with a team-leading 27 wins. Montoya, who holds a 24-8 record this year, reached the Round of 12 last season.
Aaron Studebaker (8th at 197) and Austin Wilson (10th at 165) round out the Huskers seeded in the top 10. Studebaker advanced to the Round of 12 last season. Wilson will make his fourth NCAA appearance.
Tim Lambert (13th at 125) and Micah Barnes (16th at 174) are also seeded by the NCAA. Additional Huskers to qualify for the NCAA Championships include Anthony Abidin (141), Tyler Berger (157) and Collin Jensen (HWT).
All 10 Huskers automatically qualified for NCAAs by earning top-seven finishes individually at the Big Ten Championships. As a team, NU finished fourth, marking its best finish as a member of the Big Ten since joining the conference in 2011.
The NCAA Championships are set to run from Thursday, March 17 to Saturday, March 19 at Madison Square Garden in New York, N.Y.
Nebraska's NCAA Qualifiers
125: #13 Tim Lambert (3rd appearance)
133: #7 Eric Montoya (3rd app.; 2nd at Nebraska)
141: Anthony Abidin (2nd app.)
149: #7 Jake Sueflohn (4th app.)
157: Tyler Berger (1st app.)
165: #10 Austin Wilson (4th app.)
174: #16 Micah Barnes (1st app.)
184: #7 TJ Dudley (3rd app.)
197: #8 Aaron Studebaker (2nd app.)
HWT: Collin Jensen (3rd app.)