NEB WRES: Huskers Come Up Short at No. 1 Penn State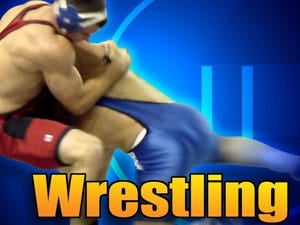 Posted By: Sports
sports@klkntv.com
Huskers Come Up Short at No. 1 Penn State
University Park, Pa. – No. 7 Nebraska (9-2, 3-2 Big Ten) dropped a 24-10 decision to No. 1 Penn State (9-0, 4-0 Big Ten) at Rec Hall on Friday night.
No. 20 Anthony Abidin (141), No. 14 Austin Wilson (165) and No. 17 Collin Jensen (HWT) each collected victories for the Huskers. Jensen added bonus points with a 9-1 major decision over Wes Phipps in the final match of the dual.
Abidin recorded a 4-1 decision over Kade Moss in the third bout of the night to pick up his third consecutive win of the season. Wilson notched a 3-2 win over Geno Morelli at 165 pounds.
All seven of NU's losses came against ranked Nittany Lions, six of whom were ranked in the top five by InterMat. In the first match of the night, No. 9 Tim Lambert (125) dropped an 8-5 decision to fourth-ranked Nico Megaludis. No. 12 Eric Montoya (133) lost to No. 5 Jordan Conaway, 5-3, in the following match.
At 149 pounds, No. 5 Jake Sueflohn fell to top-ranked Zain Retherford, 11-3, before 17th-ranked Tyler Berger (157) lost by technical fall to No. 3 Jason Nolf. No. 14 Micah Barnes fell to No. 1 Bo Nickal at 174 pounds, 10-3.
No. 5 TJ Dudley (184) and No. 16 Aaron Studebaker (197) battled in close matches, but each fell by one point. Dudley gave up a last second takedown to No. 13 Matt McCutcheon to fall by an 8-7 margin. Studebaker lost to No. 1 Morgan McIntosh in tiebreaker-1, 2-1.
The Huskers continue their road trip by facing No. 11 Ohio State on Sunday at 1 p.m. (CT) at St. John Arena in Columbus, Ohio. The dual will be streamed on BTN Plus (subscription required).
#1 Penn State 24, #7 Nebraska 10
Friday, Jan. 15, 2016
Rec Hall (University Park, Pa.)
Results
125: #4 Nico Megaludis (PSU) dec. #9 Tim Lambert (NEB), 8-5 (PSU 3, NEB 0)
133: #5 Jordan Conaway (PSU) dec. #12 Eric Montoya (NEB), 5-3 (PSU 6, NEB 0)
141: #20 Anthony Abidin (NEB) dec. Kade Moss (PSU), 4-1 (PSU 6, NEB 3)
149: #1 Zain Retherford (PSU) major dec. #5 Jake Sueflohn (NEB), 11-3 (PSU 10, NEB 3)
157: #3 Jason Nolf (PSU) tech. fall #17 Tyler Berger (NEB), 19-3 (PSU 15, NEB 3)
165: #14 Austin Wilson (NEB) dec. Geno Morelli (PSU), 3-2 (PSU 15, NEB 6)
174: #1 Bo Nickal (PSU) dec. #14 Micah Barnes (NEB), 10-3 (PSU 18, NEB 6)
184: #13 Matt McCutcheon (PSU) dec. #5 TJ Dudley (NEB), 8-7 (PSU 21, NEB 6)
197: #1 Morgan McIntosh (PSU) tiebreaker-1 #16 Aaron Studebaker (NEB), 2-1 (PSU 24, NEB 6)
HWT: #17 Collin Jensen (NEB) major dec. Wes Phipps (PSU), 9-1 (PSU 24, NEB 10)