NEB WRES: Huskers continue home stand with Illinois, NC State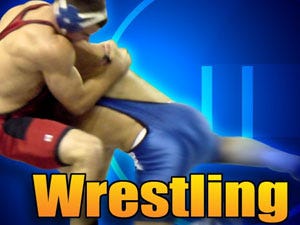 Posted By: Sports
sports@klkntv.com
Huskers Continue Home Stand with Illinois, NC State
#13 Illinois at #11 Nebraska
Friday, Feb. 5 • 7 p.m. (CT)
Lincoln, Neb. • Devaney Center
Video: BTN Plus (subscription required)
Scoring: TrackWrestling.com
#3 NC State at #11 Nebraska
Saturday, Feb. 6 • 7 p.m. (CT)
Lincoln, Neb. • Devaney Center
Video: BTN Plus (subscription required)
Scoring: TrackWrestling.com
The No. 11 Nebraska wrestling team looks to bounce back this weekend against No. 13 Illinois and No. 3 NC State. The Huskers face the Fighting Illini on Friday at 7 p.m. (CT) before battling the undefeated Wolfpack on Saturday at 7 p.m. Additionally, the Devaney Center will host high school duals before each night's collegiate action.
Last Time Out: The Huskers lost to No. 2 Iowa, 21-11, in front of a school-record 3,952 fans at the Devaney Center on Sunday, Jan. 24.
Up Next: The Huskers host Northwestern as part of "Tumble N Rumble" on Friday, Feb. 12 at the Devaney Center. The dual, which will be televised live on the Big Ten Network, starts at 8 p.m. (CT).
About the Huskers
• Nebraska has outscored its 13 dual opponents by a combined score of 304-155.
• Nebraska has won 84 of 130 individual matches in dual competition.
• NU is ranked 11th in the USA Today/NWCA Division I Coaches Poll, released on Feb. 2.
• Nebraska lost to #2 Iowa, 21-11, in front of a school-record 3,952 fans at home on Jan. 24.
• Dudley pinned #7 Brooks; Abidin and Wilson also collected wins
• Nebraska fell on the road to No. 1 Penn State and No. 11 Ohio State, Jan. 15-17.
• at #1 Penn State (L, 10-24): Abidin, Wilson and Jensen earn victories
• at #11 Ohio State (L, 17-21): Sueflohn, Wilson, Dudley and Studebaker earn victories
• Jake Sueflohn became the 24th member of Nebraska's 100-win club on Jan. 10.
• Nebraska took down Wisconsin and No. 23 Minnesota in its first two duals of the New Year, Jan. 8-10.
• at Wisconsin (W, 29-11): Five Huskers win by bonus points
• #23 Minnesota (W, 24-10): Abidin and Sueflohn defeat ranked opponents; Sueflohn joins 100-win club
• NU finished second in the Midlands Championships with 135 points in Evanston, Ill., Dec. 29-30. Ten Huskers earned podium spots, led by runners-up TJ Dudley (184) and Derek White (197).
• Nebraska split its duals on the first Big Ten road trip of the season, Dec. 11 and 12.
• at Maryland (W, 30-9): Four Huskers win by bonus points
• at #11 Rutgers (L, 16-17): Lost by criteria (total points, 51-48); snapped 17-dual win streak
• NU won both of its duals in the Grapple at the Garden (Madison Square Garden) on Nov. 29.
• vs. #7 Cornell (W, 21-14): Lambert and Wilson defeated ranked opponents; Abidin and Sueflohn added bonus points
• vs. Princeton (W, 21-12): Barnes and Dudley defeated ranked opponents; Montoya and Wilson added bonus points
• Nebraska defeated Wyoming, 35-4, in its home opener on Nov. 21.
• 2 pins; 2 major decisions; Barnes and Jensen defeated ranked Cowboys
• Nebraska opened its dual season with dominating wins over Lock Haven, No. 20 Oregon State and No. 7 Lehigh in the Journeymen/Asics Northeast Duals at Hudson Valley Community College on Nov. 15.
• NU outscored its three opponents by a combined score of 90-12
• NU won 26 of 30 individual matches
• vs. Lock Haven (W, 41-0): first shutout since Nov. 30, 2013 against CSU-Bakersfield; 7 bonus-point wins
• vs. #20 Oregon State (W, 25-6): Wilson and Studebaker defeated top-12 opponents
• vs. #7 Lehigh (W, 24-6): Berger and Dudley defeated top-5 opponents; 3 additional Huskers won against ranked Mountain Hawks (Lambert, Sueflohn, Barnes)
• Head Coach Mark Manning announced the signing of five student-athletes on Nov. 13.
• Chad (CJ) Red – New Palestine, Ind. (New Palestine) – 141
• Beau Breske – Hartford, Wis. (Hartford Union) – 174
• Eric Schultz – Tinley Park, Ill. (Tinley Park) – 197
• Taylor Venz – Farmington, Minn. (Farmington) – 184
• Johnny Blankenship – Platte County, Mo. (Platte County) – 165
• Nebraska won six weight class titles in the Warren Williamson/Daktronics Open in Brookings, S.D. on Nov. 1. Thirteen Huskers earned spots on the podium at the tournament.
• Nebraska's lone returning All-American is TJ Dudley, who finished eighth at 184 pounds in the 2015 NCAA Championships.
• The Huskers have eight wrestlers with NCAA Championships experience, including seven from last season. Jake Sueflohn (149), a three-time NCAA qualifier, missed the 2014-15 season with a torn ACL.
• Seniors (3): Anthony Abidin (141), Jake Sueflohn (149), Austin Wilson (165)
• Juniors (5): TJ Dudley (184), Collin Jensen (HWT), Tim Lambert (125), Eric Montoya (133), Aaron Studebaker (197)
• Nebraska's Upcoming BTN/BTN Plus Schedule:
• Friday, Feb. 12: vs. Northwestern (8 p.m.) – Big Ten Network
• Nebraska faces 10 opponents who finished in the top 20 at last year's NCAA Championships: Ohio State (1st), Iowa (2nd), Cornell (5th), Penn State (6th), Minnesota (8th), Illinois (12th), Lehigh (13th), Northwestern (15th), NC State (16th) and Wisconsin (17th)
Scouting the Illinois Fighting Illini
• Dual Record: 11-4 (2-4 Big Ten)
• Wins: Olivet College, Utah Valley, Clarion, SIU-Edwardsville, Arizona State, Maryland, Drexel, Princeton, Northern Illinois, Michigan State, Wisconsin
• Losses: Ohio State, Iowa, Michigan, Penn State
• Tournaments:
• Reno Tournament of Champions – 1st place (Dec. 20): five individual champions
• Midlands Championships – 36th place (Dec. 29-30)
• Ranked wrestlers (InterMat): #2 Zane Richards (133), #2 Isaiah Martinez (157), #6 Steven Rodrigues (165), #4 Zac Brunson (174)
• Coached by Jim Heffernan (7th season at Illinois; same overall)
• Assistant Coaches: Mark Perry, Jeremy Hunter
• Richards (20-0) is undefeated; defending NCAA champion Martinez (157) and Brunson (174) each have one loss
Scouting the NC State Wolfpack
• Dual Record: 20-0
• Wins: Army, Minnesota, Sacred Heart, Cumberland, Campbellsville, UNC Pembroke, Anderson, Appalachian State, Oklahoma State, Grand Canyon, Old Dominion, Duke, Hofstra, Harvard, Edinboro, American, Virginia, North Carolina, Pittsburgh, West Virginia
• Tournaments:
• Wolfpack Open (Nov. 22): Hall, Boykin and Gwiazdowski win titles
• Midlands Championships – 4th place (Dec. 29-30): Gantt and Gwiazdowski win titles
• Ranked wrestlers (InterMat): #3 Kevin Jack (141), #5 Tommy Gantt (157), #4 Max Rohskopf (165), #18 Pete Renda (184), #15 Michael Boykin (197), #1 Nick Gwiazdowski (HWT)
• Coached by Pat Popolizio (4th season at NC State; 10th season overall)
• Assistant Coaches: Frank Beasley, Adam Hall
• Gantt (18-0) and Gwiazdowski (23-0) are each undefeated