NEB WRES: Huskers Fall to Buckeyes on Senior Night, 24-13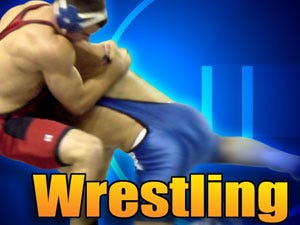 Posted By: Sports
sports@klkntv.com
Courtesy: UNL Media Relations
Huskers Fall to Buckeyes on Senior Night, 24-13
Lincoln, Neb. – No. 5 Nebraska (12-2, 6-2 Big Ten) fell to No. 4 Ohio State, 24-13, during the final home dual of the season at the Devaney Center on Friday night.
Prior to the dual, which started at 149 pounds, seven wrestlers were honored as part of Senior Night. The Huskers took an early 9-4 lead after three matches when No. 3 Tyler Berger (157) and Dustin Williams (165) earned wins. Berger pinned Anthony DeCarlo in 5:48 in the second match of the night. Williams defeated Cody Burcher in tiebreaker-1, 7-6.
Senior Tim Lambert, the No. 5 wrestler at 125 pounds, won an 8-0 major decision over No. 18 Jose Rodriguez. The win marked Lambert's 18th bonus-point victory of the season.
All three top-ranked Buckeyes took home wins, with Bo Jordan (174) and Kyle Snyder (HWT) winning by major decision. No. 1 Nathan Tomasello (133) took down No. 5 Eric Montoya by a 5-2 decision.
In the opening match of the dual, No. 5 Micah Jordan (149) won by major decision over Collin Purinton, 12-4. The Buckeyes reclaimed the lead when 10th-ranked Myles Martin (184) downed No. 3 TJ Dudley, 11-5. At 197 pounds, No. 6 Aaron Studebaker fell to No. 4 Kollin Moore, 3-2. In the final match of the night, No. 10 Colton McCrystal (141) lost to 15th-ranked Luke Pletcher, 4-1.
The Huskers travel to Iowa City, Iowa to face the No. 3 Hawkeyes on Sunday at 2 p.m. (CT). The dual will be streamed live on BTN Plus on BTN2Go.
#4 Ohio State 24, #5 Nebraska 13
Friday, Feb. 10, 2017
Devaney Center (Lincoln, Neb.)
Attendance: 2,088
Results
149: #5 Micah Jordan (OHST) major dec. Collin Purinton (NEB), 12-4 (OHST 4, NEB 0)
157: #3 Tyler Berger (NEB) pin Anthony DeCarlo (OHST), 5:48 (NEB 6, OHST 4)
165: Dustin Williams (NEB) tiebreaker-1 Cody Burcher (OHST), 7-6 (NEB 9, OHST 4)
174: #1 Bo Jordan (OHST) major dec. Micah Barnes (NEB), 11-1 (NEB 9, OHST 8)
184: #10 Myles Martin (OHST) dec. #3 TJ Dudley (NEB), 11-5 (OHST 11, NEB 9)
197: #4 Kollin Moore (OHST) dec. #6 Aaron Studebaker (NEB), 3-2 (OHST 14, NEB 9)
HWT: #1 Kyle Snyder (OHST) major dec. #14 Collin Jensen (NEB), 16-6 (OHST 18, NEB 9)
125: #5 Tim Lambert (NEB) major dec. #18 Jose Rodriguez (OHST), 8-0 (OHST 18 NEB 13)
133: #1 Nathan Tomasello (OHST) dec. #5 Eric Montoya (NEB), 5-2 (OHST 21, NEB 13)
141: #15 Luke Pletcher (OHST) dec. #10 Colton McCrystal (NEB), 4-1 (OHST 24, NEB 13)