NEB WRES: Huskers Overpower Badgers, 28-11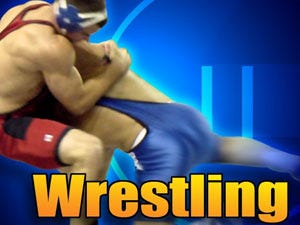 Posted By: Sports
sports@klkntv.com
Courtesy: UNL Media Relations
Lincoln, Neb. – The No. 5 Nebraska wrestling team (8-1, 2-1 Big Ten) won seven of 10 matches against No. 21 Wisconsin en route to a 28-11 victory at the Devaney Center on Friday night.
No. 5 Tim Lambert (125), No. 3 Eric Montoya (133) and No. 11 Colton McCrystal (141) strung together bonus-point wins in the first three matches to help NU build a 13-0 advantage. Lambert downed 20th-ranked Johnny Jimenez by technical fall, 19-1. Montoya defeated Eli Stickley, 10-1, and McCrystal knocked off No. 15 Cole Martin, 12-2.
No. 3 Tyler Berger (157) and No. 3 TJ Dudley (184) also added bonus points for the Huskers. Berger notched a 14-4 major decision over Jarod Donar. Dudley made quick work of Jake Stilling in the eighth match of the night with a 16-0 technical fall in the first period.
At 174 pounds, Micah Barnes knocked off 20th-ranked Ryan Christensen, 8-1. The win marked Barnes' first over a ranked opponent this season, as he improves to 15-9 overall.
No. 7 Aaron Studebaker (197) picked up his 99th career victory with a 4-3 decision over No. 13 Ricky Robertson in the penultimate bout of the dual. Studebaker has a chance to become the 26th wrestler to win 100 career matches at Nebraska when the Huskers face Michigan on Sunday.
The Huskers suffered losses to the Badgers at 149, 165 pounds and heavyweight. Wisconsin's Isaac Jordan, ranked third at 165 pounds, edged Dustin Williams by a 4-1 decision.
The Huskers return to action on Sunday at the Devaney Center for Tumble N Rumble against No. 13 Michigan. The dual, scheduled to start at 1:15 p.m. (CT), will be televised live on the Big Ten Network.
#5 Nebraska 28, #21 Wisconsin 11
Friday, Jan. 13, 2017
Devaney Center (Lincoln, Neb.)
Attendance: 1,517
Results
125: #5 Tim Lambert (NEB) tech fall #20 Johnny Jimenez (WIS), 19-1 (NEB 5, WIS 0)
133: #3 Eric Montoya (NEB) major dec. Eli Stickley (WIS), 10-1 (NEB 9, WIS 0)
141: #11 Colton McCrystal (NEB) major dec. #15 Cole Martin (WIS), 12-2 (NEB 13, WIS 0)
149: Andrew Crone (WIS) dec. Collin Purinton (NEB), 10-7 (NEB 13, WIS 3)
157: #3 Tyler Berger (NEB) major dec. Jarod Donar (WIS), 14-4 (NEB 17, WIS 3)
165: #3 Isaac Jordan (WIS) dec. Dustin Williams (NEB), 4-1 (NEB 17, WIS 6)
174: Micah Barnes (NEB) dec. #20 Ryan Christensen (WIS), 8-1 (NEB 20, WIS 6)
184: #3 TJ Dudley (NEB) tech fall Jake Stilling (WIS), 16-0 (NEB 25, WIS 6)
197: #7 Aaron Studebaker (NEB) dec. #13 Ricky Robertson (WIS), 4-3 (NEB 28, WIS 6)
HWT: #2 Connor Medbery (WIS) tech fall David Jensen (NEB), 16-0 (NEB 28, WIS 11)