NEB WRES: Huskers Shut Down Boilermakers, 28-9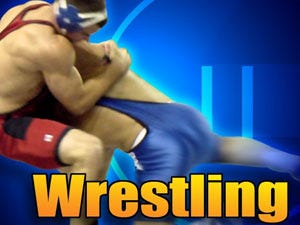 Posted By: Sports
sports@klkntv.com
Courtesy: UNL Media Relations
Huskers Shut Down Boilermakers, 28-9
West Lafayette, Ind. – No. 5 Nebraska (11-1, 5-1 Big Ten) opened its weekend road trip with a 28-9 win over Purdue at Holloway Gymnasium on Friday night.
The Huskers jumped out to an early 9-0 lead by winning each of the first three bouts against the Boilermakers. Fifth-ranked Tim Lambert (125) downed Ben Thornton, 9-4, in the opening match to pick up his 99th career victory.
At 133 pounds, No. 5 Eric Montoya notched a 7-2 decision over Luke Welch to earn his 20th win of the season. No. 10 Colton McCrystal (141) defeated Kyle Ayersman by an 8-2 decision to extend his winning streak to five matches.
Collin Purinton (149) fell by a 7-3 decision in the following match, but No. 3 Tyler Berger (157) responded with a 17-0 technical fall over Cole Wysocki. Berger achieved his sixth technical fall of the season in 4:35 to give NU a 14-3 advantage at the halfway point of the dual.
Nebraska suffered back-to-back overtime losses at 165 and 174 pounds, but bounced back by winning each of the last three bouts by bonus points. Two-time All-American TJ Dudley, the No. 3-ranked wrestler at 184 pounds, won a 9-0 major decision over Tanner Lynde. At 197 pounds, No. 6 Aaron Studebaker continued NU's momentum with an 11-1 major decision over Christian Brunner.
In the final match of the night, No. 13 Collin Jensen pinned Jacob Aven in 3:36 to complete the 14-0 run to end the dual for Nebraska. The fall marked Jensen's fourth of the season.
The Huskers continue their road trip on Sunday when they face Indiana at University Gym in Bloomington, Ind. The dual, which starts at 1 p.m. (CT) will be streamed live on BTN Plus on BTN2Go.
#5 Nebraska 28, Purdue 9
Friday, Jan. 27, 2017
Holloway Gymnasium (West Lafayette, Ind.)
Results
125: #5 Tim Lambert (NEB) dec. Ben Thornton (PUR), 9-4 (NEB 3, PUR 0)
133: #5 Eric Montoya (NEB) dec. Luke Welch (PUR), 7-2 (NEB 6, PUR 0)
141: #10 Colton McCrystal (NEB) dec. Kyle Ayersman (PUR), 8-2 (NEB 9, PUR 0)
149: Nate Limmex (PUR) dec. Collin Purinton (NEB), 7-3 (NEB 9, PUR 3)
157: #3 Tyler Berger (NEB) tech fall Cole Wysocki (PUR), 17-0 (NEB 14, PUR 3)
165: Dylan Lydy (PUR) sudden victory-1 Dustin Williams (NEB), 3-1 (NEB 14, PUR 6)
174: Jacob Morrissey (PUR) sudden victory-1 Micah Barnes (NEB), 10-8 (NEB 14, PUR 9)
184: #3 TJ Dudley (NEB) major dec. Tanner Lynde (PUR), 9-0 (NEB 18, PUR 9)
197: #6 Aaron Studebaker (NEB) major dec. Christian Brunner (PUR), 11-1 (NEB 22, PUR 9)
HWT: #13 Collin Jensen (NEB) pin Jacob Aven (PUR), 3:36 (NEB 28, PUR 9)