NEB WRES: Seven Huskers Qualify for NCAA Championships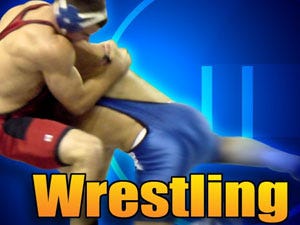 Posted By: Sports
Release available on Huskers.com at http://www.huskers.com/ViewArticle.dbml?DB_OEM_ID=100&ATCLID=209432962
Complete NCAA Championships brackets attached
Seven Huskers Qualify for NCAA Championships
Green Earns Top Seed at 157 Pounds
Seven Husker wrestlers earned spots in the NCAA Championships field when the brackets were announced on Wednesday. The tournament is set for March 20-22 at Chesapeake Energy Arena in Oklahoma City, Okla.
Big Ten champion James Green earned the No. 1 seed at 157 pounds to lead the way for Nebraska. Green heads into the NCAA Championships with a 29-1 record, having won four tournament titles on the season. Green, a junior, is a two-time All-American, having finished seventh in both 2012 and 2013.
Junior Robert Kokesh also won a Big Ten title on Sunday, and will represent the No. 3 seed at 174 pounds. Kokesh rides an 18-match winning streak into Oklahoma City, and holds a 32-1 record overall. His lone loss came to Andrew Howe of Oklahoma, the No. 2 seed, on Dec. 7. Last season, Kokesh finished third at the NCAA Championships. He will be making his third appearance in the tournament.
Big Ten runner-up Jake Sueflohn is the No. 6 seed at 149 pounds. The junior is 29-4 this season, and leads the team in major decisions with 10. Sueflohn is making his third NCAA Championships appearance after falling one match short of All-America status last season.
Redshirt freshman TJ Dudley (184) rounds out the list of Huskers with top-10 seeds, taking the No. 8 spot. Dudley is 25-6, and completed the dual season with a 13-1 mark. He has eight pins and seven major decisions in 2013-14.
At 125 pounds, Tim Lambert will be the 12th seed after a fifth-place showing at the Big Ten Championships over the weekend. He went 4-2 in Madison, Wis., and sits at 22-11 in his first year in the NU lineup.
Austin Wilson (165) and Collin Jensen (HWT) also qualified for the NCAA Championships. Wilson, a sophomore, is making his second NCAA appearance after taking sixth at the Big Ten Championships. Jensen, a redshirt freshman, is competing in the national tournament for the first time after compiling a 20-13 record.
The NCAA Championships will introduce a different finals match order for this year's event; a change the NCAA Division I Wrestling Committee believes will create the best possible live and broadcast event for the wrestling community, as well as enhancing the championship experience for the student-athletes. The order will be determined by the committee on Saturday afternoon after the completion of Session V.
NCAA Championships Qualifiers
125: #12 Tim Lambert
149: #6 Jake Sueflohn
157: #1 James Green
165: Austin Wilson
174: #3 Robert Kokesh
184: #8 TJ Dudley
HWT: Collin Jensen