Nebraska Budget Vote Fails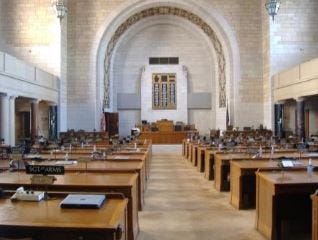 Posted By: Pierce Georlett
pgeorlett@klkntv.com
For the second day this week they tried to pass the budget and for the second time they stalled, with only 31 yes votes, and they needed 33 to move it to the third and final reading.
"Well we had a budget debate again we spent another 2 hours on the title ten question which is now we have spent close to 10 hours discussing," said Sen. Mike Hilgers of Lincoln "we had a filibuster vote, a vote to seize debate and unfortunately we came up two votes short."
Now, all lawmakers can do is try to find a compromise on the title ten language inside the budget to get this budget passed.

"Taxpayer dollars going to abortion providers is not a compromise," said Sen. John Murante "It's a non start the people of Nebraska are overwhelmingly rejecting the idea of the tax payer dollars going to abortion provider."

But there is still some hope that the budget will get passed in during this session.

"We'll pass the budget." says Sen. Bob Krist of Omaha "There's no question about it because we're not gonna give the power to the governor to call a special session and we're gonna put our big boy and big girl pants on and we're going to pass the budget."
Then, following today's session Governor Pete Ricketts released a statement saying, "By filibustering the mainline budget, some State Senators are putting vital state services for our children at risk. Because of an influx of children into our child welfare system, funding will run out in May. It is absolutely critical that the Legislature move the budget forward, which contains new child welfare funding, and get it to my desk. With only days left in the session, the clock is ticking."
Now this weekend some State Senators will be meeting to find a compromise, and then they will come back to the issue of the budget some time next week.