Nebraska Cases Of Bovine TB Rises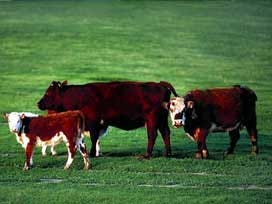 At least one state is being careful when it comes to buying Nebraska beef, it's because of Bovine Tuberculosis.
Kentucky imposed restrictions on accepting live cattle from Nebraska.
It comes as the Cornhusker state increased its number of quarantined herds for Bovine Tuberculosis.
It's now risen to 42 herds in 11 Nebraska counties and officials say that number is likely to expand.
Those are herds that border the contaminated herd and could have had contact with TB.
Kentucky says livestock from Nebraska must test negative for Bovine TB within 60 days of shipping.
The state veterinarian says if Nebraska loses the Tuberculosis-free label it's held for the past 17 years– producers might have to pay.
"What will happen now to Nebraska producers is they'll have to pay private practitioners to test their animals before moving them out of state and we're trying to avoid that one of the ways to do that is to implement the testing protocol we've put in place," Dr. Dennis Hughes, The State Vet said.
Dr. Hughes wants to remind people milk is ok to drink, once it's pasteurized it kills TB and meat that goes through a packing plant is also tested, that's where the animals in Nebraska were discovered, before the meat ever hit the shelves at the grocery store.
Testing all those herds is adding a heavy workload to the Department of Ag, so they're asking for help form the USDA. But still it could be several months before they've got the situation taken care of.