Nebraska Edged by Purdue in Big Ten Tournament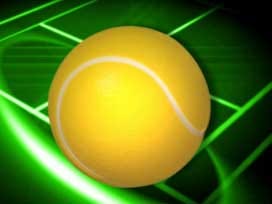 The 17th-ranked Nebraska women's tennis team fell to the No. 30 Purdue Boilermakers by a score of 4-2 on Friday in the quarterfinals of the Big Ten Tournament. The fourth-seeded Huskers (23-4, 9-2 Big Ten) won the doubles point over the fifth-seeded Boilermakers (16-6, 6-5 Big Ten) but faltered on the singles courts, winning only one of the five singles matches played.
The doubles action on all three courts was hotly contested, with NU taking an early advantage with a win on the No. 2 doubles court. Mary Weatherholt and Patricia Veresova (NU) topped Lynda Xepoleas and Daniele Vidal (PUR), 8-5 to put Nebraska one step closer to the doubles point.
The 42nd-ranked duo of Stefanie Weinstein and Madeleine Geibert (NU) secured the first point of the match with a gritty 9-7 win over Jennifer Rabot and Mara Schmidt (PUR). The No. 3 doubles match went unfinished as Nebraska took their 1-0 lead over Purdue to singles play.
Purdue quickly evened the score at 1-1 with a win in No. 5 singles. Imogen Golder (PUR) was awarded the win over 111th-ranked Janine Weinreich (NU) after Weinreich was forced to retire due to injury. The Boilermakers increased their lead to 2-1 with a victory at the No. 6 position, as Giselle Pere (PUR) defeated Jennifer Holmberg (NU), 6-1, 6-2.
Nebraska tied things up at 2-2 as Veresova topped Purdue's Xepoleas in straight sets at the No. 2 position, 6-1, 6-4.The win gave the Second Team All-Big Ten selection her 27th singles victory this season.
Purdue struck back, pushing their lead out to 3-2 with a win in No. 1 singles as Rabot edged 45th-ranked Weatherholt, 6-2, 7-5. The Boilermakers then clinched the victory with their fourth point of the day as Schmidt topped Nebraska's Geibert, 6-4, 6-2 at the No. 3 position. Play was abandoned at the No. 4 position, giving Purdue the 4-2 win.
The Huskers will now wait until next week to hear their NCAA fate. The women's tennis selection announcement will take place at 4 p.m. (CT) on Tuesday, May 1. The NCAA Tournament will consist of the first and second rounds on May 11-13 at various university sites, with qualifying teams from each site moving to the NCAA Championships in Athens, Ga. on May 17-28.
No. 17 Nebraska – 2
No. 30 Purdue – 4
OSU Varsity Outdoor Tennis Courts
Columbus, Ohio
Singles
1. Jennifer Rabot (PUR) def. No. 45 Mary Weatherholt (NU) 6-2, 7-5
2. No. 11 Patricia Veresova (NU) def. Lynda Xepoleas (PUR) 6-1, 6-4
3. Mara Schmidt (PUR) def. Madeleine Geibert (NU) 6-4, 6-2
4. Daniele Vidal (PUR) vs. Stefanie Weinstein (NU) 6-2 (unfinished)
5. Imogen Golder (PUR) def. No. 111 Janine Weinreich (NU) 6-3 (retired)
6. Giselle Pere (PUR) def. Jennifer Holmberg (NU) 6-1, 6-2
Order of finish (5, 6, 2, 1, 3)
Doubles
1. No. 42 Madeleine Geibert/Stefanie Weinstein (NU) def. Jennifer Rabot/Mara Schmidt (PUR) 9-7
2. Mary Weatherholt/Patricia Veresova (NU) def. Lynda Xepoleas/Daniele Vidal (PUR) 8-5
3. Izabella Zgierska/Janine Weinreich (NU) vs. Giselle Pere/Imogen Golder (PUR) 6-6 (unfinished)
Order of finish (2, 1)