Nebraska falls to Creighton 8-1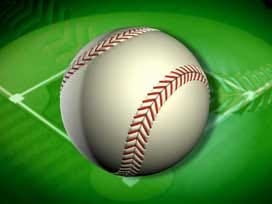 Posted By: Sports
The Nebraska baseball team (29-19, 9-9 Big Ten) was unable to complete a season sweep of the Creighton Bluejays on Tuesday night at TD Ameritrade Park, as the Jays used 16 hits to produce a 8-1 win.
The Huskers' lone bright spot on the night came on the bat of Michael Pritchard, who was 4-for-4 with a double and NU's lone RBI. The sophomore continued his assault the Husker record book, as he extended his hitting streak to 25 games with a single in the top of the first. Pritchard is now tied with Derek Dukart (1994) for the third longest hitting streak at NU since 1958. Ken Ramos holds the No. 2 spot on the list with a 28-game hitting streak in 1987.
The Jays opened the scoring in the bottom of the first to take a 3-0 lead. NU starter Tom Lemke retired the first two Jays he faced, before CU rattled off five straight hits to plate three runs.
After failing to get much going in the first two innings, Nebraska scored its first run in the top of the third with its own two-out rally. Cory Burleson, Kale Kiser and Pritchard all stroked two-out singles, with Burleson scoring on Pritchard's hit to cut the Jays' lead to 3-1.
The Husker bats went quiet and were retired in order in both the fourth and fifth innings, before loading the bases with one out in the sixth. NU was unable to come up with a clutch hit though, as Chase Webb struck out Josh Scheffert looking and got Rich Sanguinetti to ground out to second to end the threat.
Creighton then loaded the bases with one out in the bottom of the frame off NU reliever Aaron Bummer. The freshman lefty struck out Chance Ross for the second out of the inning, but couldn't get Brad McKewon, who dropped a two-out single into shallow right field that scored two runs, extending the Jays' lead to 5-1.
The Jays pushed their lead to 8-1 in the bottom of the seventh on a one-out double by Jake Peter with the bases loaded. Peter lifted a ball to center field and Sanguinetti came up just short of a catch on a diving attempt, allowing three runs to score.
NU got back-to-back single to start the ninth, but Reese McGraw got a double play and a pop out to secure the win.
The Huskers get back to Big Ten action this weekend when they host the Minnesota Golden Gophers for a three-game series at Hawks Field. The two squads open play on Friday night at 6:35 p.m. and the game will be shown across the state on NET. The series continues on Saturday and 2:05 p.m. and concludes on Sunday at 1:05 p.m.