Nebraska Forest Service preparing for insect invasion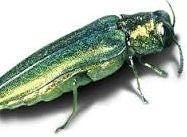 Posted By: Camila Orti
corti@klkntv.com
A small green beetle is wreaking havoc on ash trees across the country, killing them off by the millions.
The invasive insect hasn't been found in Nebraska yet, but it's close.
The Nebraska Forest Service says the Emerald Ash Borer (EAB) could change the face of your community's landscape and state foresters want to be ready.
"It's moving state by state across the country so it seems to be a matter of time before we find it here in Nebraska," explains, Mark Harrell with the Nebraska Forest Service.
The small beetle is a threat to the states 54 million ash trees.
Harrell says, "it's an insect that can attack all species of ash and it can kill the trees so when it gets here it could cause a lot of damage."
The insect tunnels underneath the bark, cutting off the tree's circulation.
The bug has already done damage to millions of trees in 20 different states.
Dealing with an invasion in the Cornhusker State could be pricey.
"Treatments do cost, on the average, about 200 dollars for like a 20 to 24 inch diameter tree," says Harrell.
The treatments have to be repeated every year or two for the duration of the tree's life.
Methods can include trunk injections, sprays and soil insecticides, but until the bug is detected in our area. Forestry experts are holding off.
As of right now, Forest Service officials are urging Nebraska residents to be aware of the insects and find out if there are any ash trees in your yard.
For help identifying the trees and ash borer warning signs head to nfs.unl.edu/EBA.