Nebraska, Illinois set for crucial Big Ten series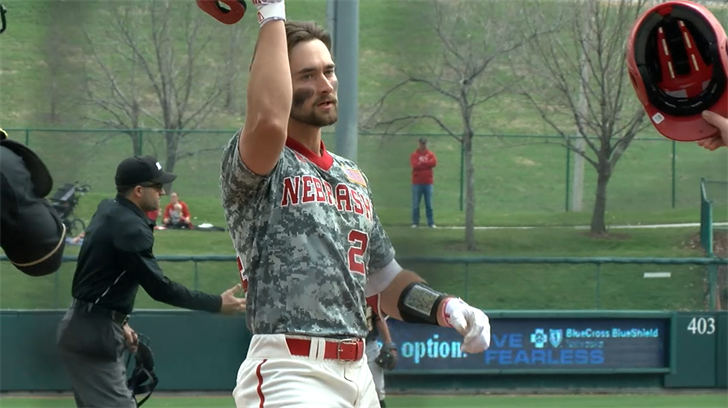 Courtesy: Nebraska Athletics
The Nebraska baseball team (22-14, 11-4 Big Ten) returns home to continue Big Ten play when the Huskers host Illinois (26-13, 6-6 Big Ten) for a three-game series at Hawks Field this weekend. NU is ranked 37th in the latest RPI, while Illinois comes in at the No. 23 spot.
The Huskers and Fighting Illini square off Friday at 7:32 p.m. (CT) on the Big Ten Network. The first 1,000 fans into the game will get a "LNK" City Edition baseball cap.
The series continues on Saturday at 2:02 p.m., on NET before Sunday's finale, set for 11:05 a.m. Sunday marks "Love 4 Laney & Katie Day," which will include a T-shirt giveaway for the first 1,000 fans. It is also Sunday Family Fun Day at Haymarket Park, which includes a pregame face painter and balloon twister.
Fans can purchase tickets for this weekend by visiting Huskers.com/tickets or by calling 1-800-8-BIGRED.
Game Info
Illinois (26-13, 6-6 Big Ten) at Nebraska (22-14, 11-4 Big Ten)
April 26-28, 2019
Hawks Field at Haymarket Park • Lincoln, Neb.
Friday, April 26 • 7:32 p.m. (CT)
TV: Big Ten Network
Radio: Husker Sports Network
Matt Waldron (5-0) vs. Andy Fisher (4-1)
Saturday, April 27 • 2:02 p.m. (CT)
TV: NET
Radio: Husker Sports Network
Nate Fisher (4-2) vs. Ty Weber (3-1)
Sunday, April 28 • 11:05 a.m. (CT)
Video Stream: BTN Plus
Radio: Husker Sports Network
Reece Eddins (4-2) vs. Cyrillo Watson (4-1)
Last Time Out
The Huskers fell to Creighton, 2-1, in the series rubber match on Tuesday night at TD Ameritrade Park in Omaha, Neb.
Next Up
The Huskers visit Evanston, Ill., for a three-game series against Northwestern next weekend. The games are scheduled for Saturday at 2 p.m. (CT), Sunday at 1 p.m., and Monday at 3:30 p.m.
How to Listen/Watch the Huskers
• Fans can listen to Greg Sharpe and Ben McLaughlin call the action this weekend on the Learfield/IMG Husker Sports Network.
• Every game this season can be heard on Huskers.com and the Official Nebraska Huskers App for both iOS and android devices. All three games this weekend will be carried on TuneIn.com and the TuneIn App on the Husker Sports Network channel.
• Fans in Lincoln can listen on 1400 AM and fans in Omaha can listen on 590 AM.
• Friday night's game will be televised on the Big Ten Network with Brandon Gaudin and Jeff Leise calling the action.
• Saturday's game will be televised on NET with Larry Punteney and Jeff Leise calling the action.
Scouting the Illinois Fighting Illini
• Illinois leads the all-time series against Nebraska, 10-9, dating back to the first meeting between the schools in 1897. In Lincoln, the Huskers hold a 6-3 edge over the Fighting Illini.
• Illinois is 26-13 this season with a 6-6 mark in Big Ten play. The Fighting Illini enter the weekend on a four-game winning streak after sweeping Penn State last weekend and defeating Bradley on Tuesday night.
• Head Coach Dan Hartleb is 436-314-1 in his 14th season overall at Illinois. He is assisted by Drew Dickinson, Adam Christ and Curt Courtwright.
• Players to Watch
No. 27 Grant Van Scoy (Senior INF): Team-high .353 batting average with 41 hits, six doubles and 14 RBIs
No. 6 Michael Massey (Junior INF): Batting .343 with 48 hits, nine doubles, four home runs and 20 RBIs
No. 18 Kellen Sarver (Redshirt Freshman C/1B): Hitting .297 with 38 hits, five doubles and 18 RBIs
"Love 4 Laney & Katie Day" Set for Sunday
• Sunday's ceremonial first pitches will be thrown by Laney Ledbetter and Katie Jewell as well as Jaxson and Nick Goudy as part of Organ Donor Awareness Day. The day will honor those who are in need of or have received an organ transplant.
• Ledbetter is the daughter of Volunteer Assistant Curtis Ledbetter and his wife, Monica. Jewell serves as the baseball team's academic counselor.
Huskers Second in Big Ten Standings
• The Huskers enter the weekend with an 11-4 record (.733 winning percentage) in Big Ten play, which puts them in second place in the league standings.
• Indiana leads the Big Ten with a 9-3 record (.750), while Michigan rounds out the top three at 8-3 (.727). The top eight teams make the Big Ten Tournament.
• At home, the Huskers have swept Michigan State (March 22-24) and Purdue (April 5-7). On the road, NU swept Penn State (April 12-13). The Huskers won 1-of-3 at Minnesota (March 29-31) and 1-of-3 at Iowa (April 19-21).
• Nebraska has three conference series remaining this season, including this weekend when the Huskers host Illinois. Michigan also comes to Hawks Field, May 16-18. The Huskers travel to Northwestern (May 4-6).
• Nebraska, in its eighth season as a member of the Big Ten, finished in the top two of the regular-season standings in four of its first six seasons in the conference before finishing 10th in 2018. NU won the regular-season crown in 2017 after finishing second in 2013, 2014 and 2016.