Nebraska judges could see a pay raise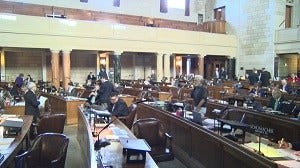 Posted By: Channel 8 Eyewitness News
8@klkntv.com
Nebraska judges will get a 2.5 percent pay raise over a two-years if a bill advanced by lawmakers becomes law.
Senators gave the measure first-round approval on Wednesday with a 31-0 vote, amid concerns about retaining quality jurists.
Members of the Nebraska Supreme Court would see their salaries increase to roughly $176,300 a year by July 1, 2019.
Their current salaries are about $171,975.
In the Nebraska Court of Appeals, district courts, juvenile courts, workers compensation courts and county courts will also get raises.
Two additional votes are required before the proposal goes to Gov. Pete Ricketts.