Nebraska lawmakers avoid drawn-out debate over rules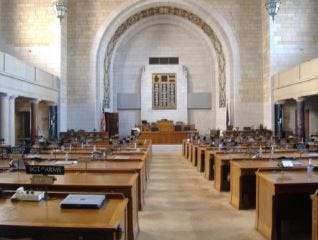 Posted By: Channel 8 Eyewitness News
8@klkntv.com
LINCOLN, Neb. (AP) _ Nebraska senators who spent about one-third of last year's legislative session arguing over debate rules are avoiding a drawn-out squabble this year.
Lawmakers voted 39-1 on Monday to leave their current parliamentary rules unchanged. That's a sharp contrast from the 2017 session, when the Legislature fell into a stalemate.
Some conservative lawmakers proposed rule changes in 2017 that would have helped them overcome legislative filibusters and required senators to publicly disclose their votes for speaker and committee leaders. The proposals drew opposition from progressive and moderate senators, who painted them as an effort to impose party control on the officially nonpartisan Legislature.
Sen. Lydia Brasch of Bancroft briefly proposed the requirement that senators disclose their committee leader votes, but withdrew it after a handful of senators spoke on the issue.