Nebraska men to battle Buckeyes Saturday morning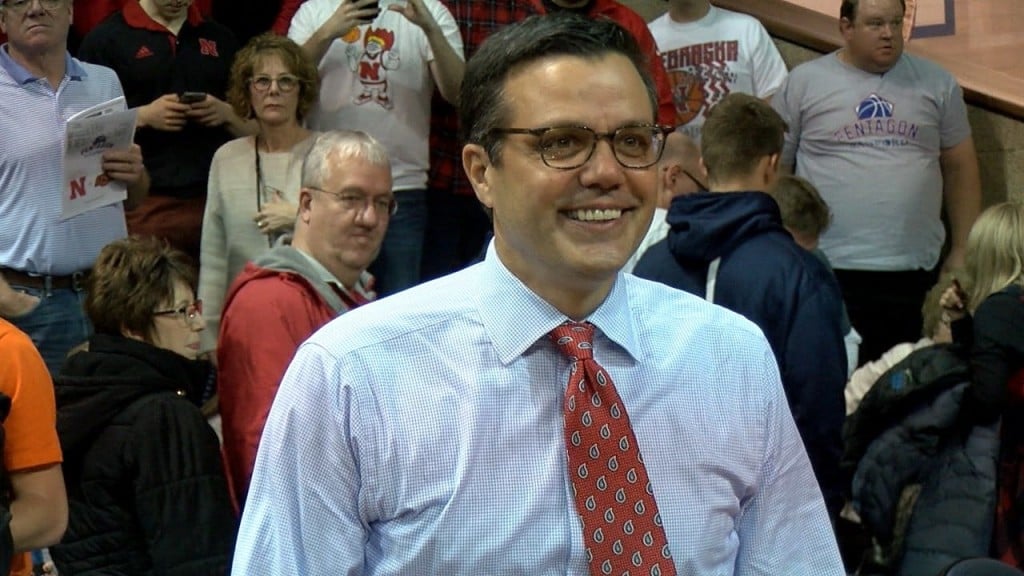 Courtesy: UNL Media Relations
The Husker men's basketball team returns home looking to snap a two-game losing streak, as the Huskers host Ohio State at Pinnacle Bank Arena on Saturday.
Tipoff at Pinnacle Bank Arena is set for 11:01 a.m. (central) and any returned tickets will be available at the Pinnacle Bank Arena box office beginning at 9:30 a.m.
Saturday's game will be televised nationally on FS1 with Jeff Levering and Nick Bahe on the call. The matchup will also be available on the Fox Sports App with cable authentication.
Fans can follow all of the action across the state of Nebraska on the IMG Husker Sports Network with Kent Pavelka and Jake Muhleisen on the call. The game will also be available on Huskers.com, on the Huskers app, on TuneIn Radio and the TuneIn Radio app and on both Sirius and XM Radio. The pregame show begins one hour prior to tipoff on many of the Husker Sports Network affiliates (affiliate list on page 7 of the game notes).
The Huskers (13-6, 3-5 Big Ten) let an opportunity for a crucial road win slip through their grasp in a 76-69 loss at Rutgers Monday evening. Nebraska, which led by as many as eight in the second half, rallied from a seven-point deficit to pull even at 67 with 2:02 left, but the Scarlet Knights outscored NU 9-2 down the stretch to earn the victory.
Nebraska had three players in double figures at Rutgers, including a game-high 22 from James Palmer Jr. and 16 points and eight boards from Isaac Copeland Jr., but the Huskers went just 10-of-18 from the charity stripe and committed 12 turnovers in the loss.
After playing four of the last six games on the road, the Huskers will play three of the next four games at Pinnacle Bank Arena beginning with Saturday's game with Ohio State. The matchup with the Buckeyes is the Huskers' annual Coaches vs. Cancer game where the Husker basketball program and NU Athletics will recognize members of the Husker Athletic family and fans who have been personally affected by cancer.
Ohio State (12-6, 2-5 Big Ten) comes into Saturday's game looking to snap a five-game losing streak following a 79-67 loss to Purdue on Wednesday. In that game, Andre Wesson scored a career-high 22 points on 9-of-10 shooting to lead three OSU players in double figures, as the Buckeyes cut a 14-point second-half deficit to two before Purdue pulled away down the stretch.
VIDEO PREVIEWS
Tim Miles takes blame for Nebraska's poor play:
Tim Miles on working his players this week:
Tim Miles challenges players to "just play":
OPENING NUMBER
11 – Nebraska tallied 11 steals in Monday's loss at Rutgers. It was the fifth time this season the Huskers tallied 10-or-more steals in a game.
NUMBERS TO KNOW
1.39 – Nebraska's assist-to-turnover ratio, which is on pace to be one of the best marks in school history and ranks 28th nationally.
| | | |
| --- | --- | --- |
| No. | Year | Asst.-to-TO ratio |
| 1. | 1984-85 | 1.81 |
| 2. | 1985-86 | 1.64 |
| – | 2018-19 | 1.39 |
| 3. | 1983-84 | 1.34 |
2 – Assists that Glynn Watson Jr. needs to move into 10th place on Nebraska's career list. Watson enters the Ohio State game with 342 assists, while Beau Reid is 10th with 344.
3 – Number of Huskers with double-doubles this season (Isaac Copeland Jr., Isaiah Roby and Glynn Watson Jr.).
10 – Number of 20-point games for James Palmer Jr. in 2018-19. Palmer has scored 20+ points in each of the last two games. Palmer had eight
during the 2017-18 campaign.
16 – Number of 20-point games for Husker players in 2018-19. James Palmer Jr. has 10 while Isaac Copeland Jr. (three), Isaiah Roby (two) and Glynn Watson Jr. (one) also enjoyed 20-point games this season.
18 – The Huskers have had 18 runs of at least 10-0 in 2018-19 and have allowed just four double-figure runs this season.
SCOUTING OHIO STATE
Under the direction of second-year coach Chris Holtmann, Ohio State was one of the early surprises of the Big Ten before hitting a rough patch of late. Prior to taking over the OSU program last season, Holtmann spent the previous three seasons at Butler, guiding the Bulldogs to three straight NCAA Tournament appearances, including a Sweet 16 appearance in 2017. Last year, the Buckeyes went 25-9 and finished second in the Big Ten before losing to Gonzaga in the second round of the NCAA Tournament.
The Buckeyes started this season with six straight wins, including wins at Cincinnati and at Creighton, before falling to Syracuse in the ACC/Big Ten Challenge. The Buckeyes entered January with a 12-1 mark and were ranked as high as 13th before falling against Michigan State on Jan. 4. Since then, OSU has dropped five straight, including road games at Rutgers and Iowa before falling to Maryland and Purdue at home.
The Buckeyes have been solid defensively, holding opponents to 41 percent shooting, including 32 percent from 3-point range. OSU comes into Saturday's game averaging 74.5 points per game. Sophomore Caleb Wesson leads OSU in both scoring (15.3 ppg) and rebounding (6.6 rpg) while shooting 52 percent from the field. Senior C.J. Jackson also averages double figures at 12.7 ppg along with a team-best 3.7 assists per game. Jackson also paces OSU with 35 3-pointers. The Buckeyes' balance is its strength with seven players averaging at least seven points per game.
SERIES HISTORY VS. OHIO STATE
Ohio State leads the all-time series, 15-4, in a series that dates back to 1936. The Buckeyes are 11-2 against the Huskers since Nebraska joined the Big Ten with Nebraska's wins coming in 2014 (Lincoln) and 2017 (Columbus). The last four meetings have been decided by a total of 10 points, including a pair of one-point decisions in 2016-17. The three meetings between the two teams in PBA have been decided by a total of 10 points.
LAST MEETING VS. OHIO STATE
Despite a career-high 34 points from James Palmer Jr., No. 13 Ohio State edged Nebraska, 64-59, at Value City Arena.
Palmer set an opponent arena record with his 34-point effort, as he went 11-of-18 from the field, including five 3-pointers, topping his previous best of 25 against UTSA on Dec. 20. Keita Bates-Diop led four Buckeyes in double figures with 20 points.
Nebraska trailed 46-41 with just over nine minutes remaining when Glynn Watson Jr. started an 8-0 Husker run before Palmer hit two straight 3-pointers to put the Huskers up 49-46 and forced the Buckeyes to take a timeout.
OSU went to Bates-Diop, who had 14 of his 20 points in the second half, for two straight baskets to put the Buckeyes ahead before Evan
Taylor's basket put NU up by one. The teams traded 3-pointers, as Anton Gill's 3-pointer put NU ahead 54-53 with 4:36 remaining before Bates-Diop's basket gave the Buckeyes the lead for good with 4:09 left.
Trailing by one, Isaiah Roby was fouled with 3:29 left, but was unable to convert the front end of a 1-and-1 opportunity. OSU took advantage, as Jae'Sean Tate was fouled and hit both free throws to extend the lead to 57-54. Moments later, C.J. Jackson's 3-point play with 2:26 left capped the 7-0 run and gave the Buckeyes a 60-54 lead.
LAST TIME OUT
A series of runs cost the Nebraska men's basketball team Monday night in a 76-69 road loss at Rutgers.
The Scarlet Knights strung together four runs of 8-0 or greater, including scoring eight straight points after Nebraska had tied the game at 67 with 2:02 to play. Nebraska led by as many as 13 in the first half and eight in the second half, but every time the Huskers tried to pull away, Rutgers responded.
In the first half, the Scarlet Knights had an 8-0 run to erase a six-point deficit and a 15-0 run to erase a 13-point Husker lead. Then in the second half, an 8-0 Rutgers run wiped out an eight-point Nebraska lead, and the Scarlet Knights used a 7-0 run to erase a one-point deficit and take the lead for good with less than 10 minutes to play.
James Palmer Jr. led Nebraska with 22 points before fouling out. Isaac Copeland Jr. added 16 points and eight rebounds, but he was held to just two points in the second half. Glynn Watson Jr. chipped in 14 points for a Nebraska team that shot just 41.7 percent from the field, including hitting only 10-of-28 shots in the second half. The Huskers were also just 10-of-18 from the free-throw line on the game and committed 12 turnovers
WORTH NOTING
Husker coach Tim Miles will be looking for his 50th conference win at Nebraska on Saturday. Only three Husker coaches (Joe Cipriano, Danny Nee and Moe Iba) won 50 conference games at the school.
The Huskers' 13-6 mark is its best 18-game start since joining the Big Ten and the best since opening the 2010-11 season with a 14-5 mark.
Nebraska has been tough to beat at Pinnacle Bank Arena the past two seasons, going 25-2 with the two losses coming to No. 13 Kansas in 2017 and No. 6 Michigan State earlier this month.
Glynn Watson Jr. needs two assists to crack Nebraska's top-10 chart for career assists. When he does that, he will become one of six players currently on NU's top-10 list in both assists and steals, joining Brian Carr (1984-87), Cookie Belcher (1997-2001), Tyronn Lue (1996-98), Erick Strickland (1993-96) and Clifford Scales (1998-91).
Watson could make a move in several categories on Saturday, as he is only eight points away from becoming the 14th player to score at least 1,300 points at Nebraska. He is also two steals shy of fifth place on NU's career list (Ryan Anderson, 166). A start on Saturday will also move Watson into a tie for 10th place with Jerry Fort in that category.
James Palmer Jr. has 10 20-point games this season, bettering his career total in 105 games entering this year. That total ranks among the highest 20-point games in a season under Tim Miles.
Palmer is also racing toward becoming the 30th 1,000-point scorer in Nebraska basketball history. He has 937 points in his Husker career and is looking to join Dave Hoppen and Terran Petteway in reaching 1,000 points at Nebraska in two seasons or less.
The Big Ten is well represented in the latest NET released on Jan. 24, as seven teams are ranked in the top 30 (Michigan State-3; Michigan-6; Purdue-10; Wisconsin-15; Maryland-19; Nebraska-21; Iowa-22).
As of the Jan. 24 NET, Nebraska has played 12 of its 18 Division I games against teams in the top two quadrants. Currently, every Big Ten team is in the top-150 of the NET.
The Huskers are averaging 77.2 points per game, which is fourth in the Big Ten and NU's highest scoring average after 19 games since the 1995-96 season (86.4 ppg). During the previous six seasons under Head Coach Tim Miles, NU's highest average after 19 games was 74.6 ppg in 2015-16.
Nebraska's offense ranks in the top-30 nationally in a trio of categories, including turnovers per game (10.4, 10th), turnover margin (+4.3, 13th) and assist-to-turnover ratio (1.38, 28th).
Balance has been key for the Husker attack this season. When NU has at least three double-figure scorers, the Huskers are 12-4, but just 1-2 when less than three NU players are in double figures.
NU has committed 10 or fewer turnovers in 10 of the last 14 contests dating back to Nov. 24. NU's 12 turnovers at Rutgers Monday matched its highest total since committing a season-high 16 against Illinois on Dec. 2.
Nebraska is one of seven teams in Division I ranked in the top 25 nationally in field goal defense, 3-point defense and scoring defense through Jan. 23, a list which also includes Virginia, Texas Tech, Houston, Georgia Tech, VCU and Texas State.
After opening the month with a pair of sub-par defensive efforts, the Huskers have been effective on that end of the court in the last four games. Since the loss to Iowa, NU is holding teams to 40 percent shooting, including 28 percent from 3-point range.
Nebraska ranks ninth nationally in average attendance at 15,582 per game as of Jan. 23. Of the eight schools ahead of the Huskers, all eight play in facilities of at least 16,300 seats. NU's attendance is 104 percent of PBA's 15,000-seat capacity.
The Huskers finished non-conference action with a 10-1 mark, including wins over Seton Hall, Clemson, Creighton and Oklahoma State. It marked just the fourth time since World War II that the Huskers finished non-conference play with one loss (10-1, 2003-04; 12-1, 1991-92; and 11-1, 1977-78).
SATURDAY IS COACHES VS. CANCER GAME
Saturday's game is the annual Coaches vs. Cancer game and is part of the American Cancer Society and the National Association of Basketball Coaches Suits and Sneakers Week. Here is a quick rundown of the events.
For the sixth straight year, the Huskers will partner with Be the Match, getting information to fans on how they can join the National Bone Marrow Registry. Volunteers will be at all of the Pinnacle Bank Arena entrances on Saturday. Over the previous five years, there have been at least four matches attributed to the registry members added during this event.
The Husker coaches and staff will wear suits and sneakers, while the Huskers will also have special shooting shirts for Saturday's game.
During starting lineups and at halftime, the Huskers will recognize a special group of people who are either battling cancer or have donated bone marrow thru the Be the Match program. The honorees include two bone marrow transplant recipients (Avery Harriman and Dylan Downes), two people who are currently battling cancer with Athletic Department ties (Katie Jewell and Brent Bargen) and Cameron Beck, a former Husker basketball student trainer who was a bone marrow donor and is currently in medical school.
At halftime, Florence Dalby, a breast cancer survivor who has been a basketball season ticket holder for 80 years will be honored. She will celebrate her 99th birthday on Feb. 2.
Nebraska will have several promotions geared toward students. The first 1,000 students will receive a special gameday t-shirt, while the first 500 students in the gates will receive a Herbie Husker tie for the occasion. In addition, any student that dresses in a suit and sneakers will have a chance to win a $500 gift card for a new suit.