Nebraska native behind NBA Finals theme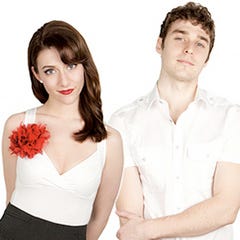 Known as the little band with big sound, one Youtube overnight success story has Nebraska roots. They go by the name Karmin Music, and if you've been watching the NBA finals, chances are you've heard them, as their latest original is this year's theme song.
It was at Berklee College in Boston where Amy Heidemann, originally from Seward, Nebraska, and Nick Noonan first met and began performing together. And they credit their manager with providing them a golden idea on how to get their music careers up and running.
"Our manager was the one who said do cover songs to get attention…let's have you do really creative, really quirky, sometimes silly, covers of people's songs, put them on youtube and title them "Chris Brown: Look At Me Now" so that people would search for it and they'd stumble upon it by accident," Heidemann said.
They say just two days after posting the Chris Brown cover to youtube, they were receiving calls from Ellen DeGeneres, Ryan Seacrest and other big name musicians. Now, after meeting with representatives from the NBA, they've landed this year's theme song, "Take it Away." "We've loved every second of every minute. The best part about it is it feels totally normal. Yeah, I think that's the strangest thing is you meet someone like Kanye West, like we sat down with him for a couple hours in New York and we we're nervous before we got there but by the time we sat down with him, it was almost like, it just felt normal…it was like we belong there," Heidemann and Noonan said.
And the future is bright for the group's unique sound. Amy says they may soon be featured at upcoming events such as the ESPY's and BET awards.
"It's our job now to just make music, which is incredible so we're foaming at the mouth to get in the studio and get going," Heidemann said. you can check out all of the duo's covers and original songs on youtube or their website, www.karminmusic.com. .