Nebraska online voting registration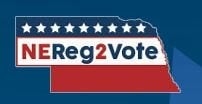 By: KLKN Newsroom
8@klkntv.com
LINCOLN, Neb. (AP) Nebraska residents with a driver's license or state identification card can now register to vote at a new state website.
Secretary of State John Gale said Tuesday that the site is now online. The announcement was timed to coincide with National Voter Registration Day.
Nebraska is the 24th state to enact an online voter registration system, following Pennsylvania, Hawaii and Massachusetts earlier this year. Nebraska's website is also available in Spanish.
Gale says he anticipates an initial surge in registrations. He previously has said the new system will mark one of the biggest technological advancements in voter registration in years.
The website can also be found at the Nebraska Secretary of State's home page. Click the link below for more info: