Nebraska State Fair kicks off today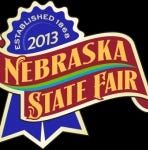 By: Rachael Witter
rwitter@klkntv.com
It's that time of year again. The state fair is back in Grand Island. Today was the first day, and fair goers say they're excited to be back.
"I grew up in 4H, going to the fair and we're back visiting and it's a fun thing to do and thought it'd be great to take the kids out and kind of experience that kind of thing. We enjoy seeing the animals and I look forward to doing rides with the kids when they open and of course…trying new food." said Erin Fennema from Michigan.
New on the menu this year? Stuffed cucumbers, deep fried cinnamon rolls…and anything else you can fry and put on a stick. It's a favorite part of the fair for a lot of people.
"The food. It's gotta be the food." said fairgoers Chantz and Darin.
What else is new this year?
"The east entertainment area is booming this year…we have an elephant encounter experience, a BMX bike show, a canine high flying dog show, lots of new vendors, lots of new food. A ton of tractors and a lot of fun stuff going on." said facility director Jamie Parr.
Others visiting the fair say it keeps on improving every year.
"I think it's definitely improved. I see some new stuff every year and I think it's pretty great." said fairgoer Jason.
There are a host of concerts this year…including the Eli Young Band and Lynyrd Skynyrd.