Nebraska State Troopers Train for Active Shooters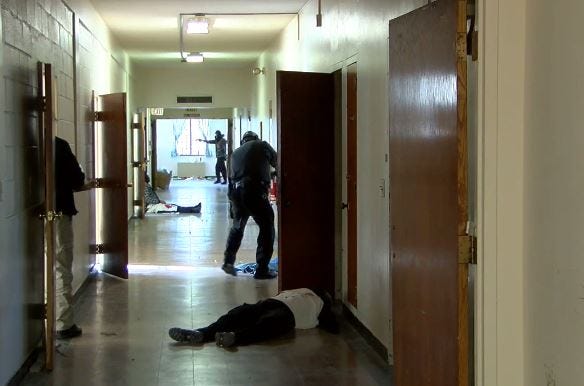 Posted By: Channel 8 Eyewitness News
8@klkntv.com
HASTINGS, Neb.
Troopers from all over the state of Nebraska are exercising new tactics and training for active shooter situations. With incidences like Columbine, Orlando and Las Vegas, law enforcement is doing what they can to protect themselves and you.
Trooper Tyler Schmidt began his course, searching for the active shooter while meeting a few role-playing victims.
This is the first batch of troopers to train in an active shooter situation.
"We'll actually do a full scale scenario base training where they'll be put into as most realistic style scenario that we can, to prepare them for a real world event if that would ever happen," said Training Sergeant Paul Hagen.
Tuesday's class holds 21 troopers with many who believe this training is necessary considering recent events.
"With the way that society is now, to revisit this training, not only does us good when we're going out on patrol, but it's for the people we serve every day," said Trooper Tyler Schmidt.
Schmidt believes speaking out can save a life.
"The best way to keep yourself safe is, not only as law enforcement becomes more involved with the community, but to actively engage in conversation with those law enforcement officers that are out on the street and visit with them, and if you do have concerns it's something they can address with you as well," said Schmidt.
This active killer training began Monday and runs through March.