Updated: Crews Fighting Nebraska Wildfire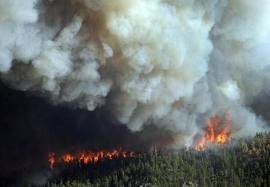 By: Cole Miller
8@klkntv.com
Crews say a wildfire that has burned more than 1,000 acres at the Nebraska National Forest is only 20 percent contained.
Firefighters continued to battle the blaze on Monday, struggling through thick forest and sandy terrain that is difficult to navigate with trucks. The fire is one of 11 reported over the weekend following a Saturday lightning storm southeast of Halsey.
Tim Buskirk, a district ranger for the U.S. Forest Service in Nebraska, says strong winds and high temperatures have complicated efforts to contain the fire.
Meanwhile, fire crews in Logan, Thomas and McPherson counties reported weekend blazes that scorched more than 10,000 acres of ranch land. Stapleton Fire Chief Frank Kramer says the blazes are contained, but officials are deeply concerned about fireworks over the July 4 holiday.
Cyd Janssen with the Nebraska National Forests and Grasslands department says the terrain is making containment tough…"it's about 1,000 acres, in a rugged area for Nebraska. It's heavy timber with steep and sandy hills that make it difficult for crews to get around out there."
Janssen says a lightning storm Saturday sparked the fire and with dry conditions and high winds, worries about it spreading. However, the fire hasn't grown much in size. As of Sunday afternoon, officials say 11 engine crews were fighting the flames but the threat for more fires remains…"our biggest concern overall is it's going to be a long fire season and every gray cloud with lightning is a threat to all of us."
Two campsites have been evacuated and Janssen says heavy smoke could make driving in the area difficult. And while there's no immediate threat to any towns, Janssen says they'll do everything to save the forest…"absolutely, it's a big situation. This is the oldest hand–planted forest in the nation and it certainly has been a crowning glory for the state of Nebraska and it would be tragic if the forest burnt."
No injuries have been reported.