Neighborhood near Garland hit hard by Sunday's storms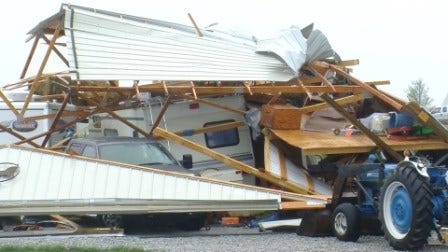 By: Kayla Bremer
kbremer@klkntv.com
Several homes south of Garland, Neb. were damaged after a tornado tore through Seward County.
Families in the neighborhood hit are picking up the pieces after Sunday night's twister, thankful to be alive.
"It was pretty scary," Brian Leffers said.
Leffers and his family were watching the storm from their house when the siren went off on his phone. He, his wife and two kids went downstairs and took cover under their steps.
"Our ears popped a little bit and we heard a window shatter upstairs and we thought the whole top was gone."
His house only had minor damage but his neighbors weren't so lucky. One home lost the entire left side and most of it's roof. Across the street, two sheds were completely destroyed.
"After it calmed down, we went outside and saw the damage of what had happened. We walked up and down and made sure everybody had a place to stay last night."
Thankfully, no one was injured.
One family did lose a horse and another family is forced to move out of their home due to the damage, only a week before expecting a new baby.
"We're all going to continue to help each other out and support each other how we can," Leffers said.