Nelson defends Berkshire position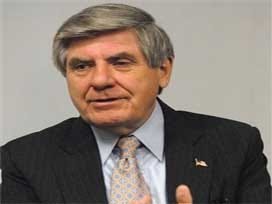 U.S. Sen. Ben Nelson is disputing critics who accuse him of stalling financial reform legislation to benefit billionaire Warren Buffett's investment company. Nelson said Wednesday that he joined Republicans earlier this week in voting against advancing the measure because he fears the bill's regulations might reach too broadly.
The legislation seeks to regulate complex investment securities known as derivatives. Nelson says the current bill would require companies to carry collateral for existing derivative contracts and could hurt businesses such as Buffett's Berkshire Hathaway.
But he says Berkshire did not drive his vote. He says his vote was based on his concerns for hundreds of companies and his hope that a bipartisan bill can emerge.
Nelson said he has been invested in Berkshire before he ran for governor.
Berkshire also is Nelson's top campaign contributor, according to the Center for Responsive Politics, with employees and its political action committee donating $75,550 over his Senate career.
You can comment anonymously by clicking on the link at the bottom of this page. You can also see a complete release from Senator Nelson's office on this issue.
April 28, 2010 – Today, Nebraska's Senator Ben Nelson made the following statement on financial reform during a conference call with Nebraska reporters. Senator Nelson also released a letter sent to all Senate offices from businesses concerned about the derivatives issue, which is attached to this statement.
"I strongly support broad financial reforms to end bailouts, stop Wall Street's irresponsible actions and protect consumers and taxpayers with transparency and appropriate oversight. I think many in Congress do, too. I am hopeful a bipartisan bill will come together soon.
"Unfortunately, amid discussions on that bill, we've seen the usual Washington parlor game of wild speculation, unfounded rumor and uninformed comments by unnamed sources, some directed at me.
"Today, Washington is a cesspool of gotcha politics. It's so out of control you can't even shake hands in the hallway with a Future Farmer of America without people questioning your motives.
"I'd like to explain directly to Nebraskans what Senator Johanns and I have been concerned about in one part of financial reform. It may affect several hundred major American businesses, including Nebraska's own Berkshire Hathaway, and other Nebraska businesses as well.
"Here's the policy issue. For months we've heard concerns that proposed regulations on derivatives contracts extend too far by seeking to make new rules retroactive, not for just future contracts.
"All senators received a letter from hundreds of businesses raising this issue. They said it could harm business efforts to invest in new technology, build new plants and keep and expand workforces.
"We've also heard from Berkshire Hathaway. When Berkshire Hathaway — one of America's most successful businesses that had nothing to do with the economic crisis we're in — tells us they will be similarly adversely affected, of course I will listen.
"I raised these concerns with the Senate Agriculture Committee. It's my job to bring concerns of my constituents to the table when Washington debates new laws.
"The Ag Committee and the federal Commodity Futures Trading Commission staff wrote a provision into the bill applying the new rules for future derivatives contracts.
"To make clear, I did not offer any amendment. The CFTC and the Agriculture committee wrote the provision. It applies to many American companies, including Caterpillar, 3M, ConAgra, the U.S. Chamber of Commerce and the Walt Disney Company.
"There's an important principle at stake. Big government should not reach back and rewrite existing contracts between American companies executed in good faith that help our economy grow. It's unconstitutional. Not only that, it's just wrong.
"There's broad support on that policy point. Last December in an Agriculture Committee hearing, I asked Treasury Secretary Geithner about the administration's view on how changes to derivatives regulations should affect existing contracts.
"He said: 'The law needs to be crystal clear that it leaves in place existing contracts, does not change their legal nature, does not add to uncertainty about the legal nature of those claims.'
"He did say that existing contracts should be subject to new record keeping obligations. And he added, 'But with that exception, our view is that these reforms should be prospective.'
"Treasury's approach on grandfathering existing contracts varies only slightly from the provision added to the Agriculture Committee bill. The Agriculture committee provision specifically exempted existing contracts from margin requirements.
"Treasury believes that other language already in the bill exempts existing contracts from margin requirements.
"On Monday, the derivatives bill was altered to remove part of the new language related to margin requirements. Furthermore, I'd heard from Senator Dodd and others that there were ongoing discussions to try to address the continuing concern by Berkshire Hathaway and hundreds of American companies regarding margin requirements.
"I have opposed several cloture motions to proceed to a debate and vote on financial reform. And the Washington gotcha game has kicked into high gear impugning my motives.
"To be absolutely clear, I did not vote no because of Berkshire Hathaway. Nor did the fact that I and my wife have owned Berkshire stock for 30+ years have anything to do with my vote. It has never been an issue. It isn't now.
"I voted no because of concerns about what is in the underlying bill drafted by Senator Dodd and because the Banking Committee reportedly is working on a bipartisan alternative which I haven't yet seen.
"I have heard from Nebraska business owners and leaders that the underlying bill will extend too far and adversely impact Main Street businesses that use third party financing to help customers pay for their products or services.
"Until those concerns are addressed and we see a bipartisan effort, I will vote against moving forward with debate."
– 30 –